mars58 - Fotolia
Open data, democracy and public service reform
Discussion around reforming public services is as important as better information sharing rules if government is to make the most of public data
Our public services face two paradoxes in relation to data sharing. First, on the demand side, "Zuckerberg's law" – which claims that the amount of data we're happy to share with companies increases exponentially year-on-year – flies in the face of our wariness as citizens to share with the state.

Download this free guide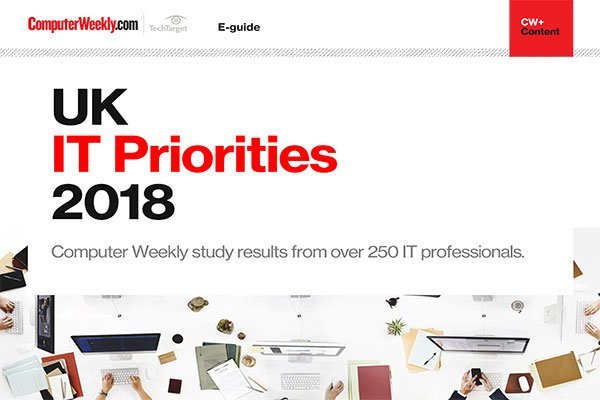 2018 UK IT Priorities survey results
IT organisations in the UK and across Europe are starting to accelerate the move to the cloud. Read more about the key areas in which senior IT managers are planning to invest in over the next 12 months.
Second, in spite of good intentions shown around sharing data in the UK's open government National Action Plan, government can be reluctant to share data with the public – as demonstrated by its notorious history of dissembling in response to requests under the Freedom of Information Act.
When government does get its act together on open data, great things can happen, such as www.transportapi.com, which has triggered great new services like Citymapper.
The upcoming General Data Protection Regulation (GDPR) – a beefed-up version of the existing Data Protection Act (DPA) – is likely to only exacerbate a fundamental problem, therefore: citizens don't want the state to know much about them, and public servants don't want to share. Each behaviour is paradoxical, and thus complex to address culturally.
Worse, we need to accelerate our public conversation considerably if we are to maintain pace with accelerating technological developments.
Existing complexity in the data space will shortly be exacerbated by new abilities to process unstructured data such as images and natural language – abilities which offer entirely new opportunities for commercial exploitation as well as surveillance.
Data rush
If Dunnhumby founder Clive Humby's dictum that "data is the new oil" is correct, can we prepare the required legal and trust-based frameworks to cope with the data rush that is surely coming?
The better news is there is increasing awareness in government that we need to progress the public data conversation that is undoubtedly required to build public literacy on the data dimension of both demand- and supply-side of public services.
The British Academy, working with the Cabinet Office, has made a great start in addressing aspects of these definitional issues – and there's a lot to do.
As examples, the definitions and protections for both sides enshrined within the DPA require updating: does "my data" mean "data about me", or "data that I control", for instance?
It's a similar story with the scenarios the DPA addresses. For example, within internet of things (IoT) situations involving harvesting of data about consumption and movement patterns, such as smart meters and vehicle insurance, how do we collect open/non-sensitive data while respecting the right to privacy and personal space?
Untested laws
Data transactions are also complicated. Many financial transactions, for example, generate around 70 data items with many different owners – supplier, consumer, intermediary, software provider, and so on – whose relationships in data law remain largely untested.
The maturity of the public data economy is an issue too. Take the way in which citizens are able to benefit from the NHS, but opt out of sharing non-identifiable data generated through the delivery of healthcare. In some areas of the country, more than 10% of patients have done so.
A public discussion is needed around objectives, definitions, good practice and governance, one that addresses what people gain, as well as give up, by sharing data. Such a debate might help people to view the state as "little", rather than Big Brother – and encourage us all to see informed data sharing with the state as the norm, not the exception.
Information sharing
Equally important, however, is further encouragement to the state in the sharing of information with citizens. Here, the issue too often lies with a relative (in)ability of government to co-ordinate with itself.
As many in Whitehall will acknowledge, overcoming some of the cultural barriers that prevent the various silos of the state from coordinating enthusiastically with one another is an issue that arguably outweighs the technical and legal complexity that characterises the data space.
As a longstanding researcher and policy advocate for public service reform involving open platforms and data, I was particularly glad that my company, Methods, has been centrally involved in delivering perhaps the UK's largest ever single publication of consistent cross-departmental data – the Ethnicity Facts and Figures website and supporting publication platform, which went live in October 2017.
This project, as well as our experience of delivering the other notably data-rich government website at the Office for National Statistics (ONS), has taught us much about the crucial importance of establishing common data standards, and the role of content designers who can translate the data from the realm of specialists into powerful formats that make sense to citizens.
Data accessibility
Sites such as ONS and Ethnicity Facts and Figures could be just the start, though. There are arguably far greater benefits – both social and economic – to be gained through data sharing across the diaspora of local services, such as health, social care, housing, local authorities, blue light and third sector.
However, because this sits cross-sector and spans the administrative silos of government, there are few champions and precious little budget. Data accessibility, application programming interfaces (APIs), and exposure sit at the heart of successful digital business models worldwide.
If data is similarly the oil of an efficient, digitally reformed public administration, then we need to think of the "reform" part as carefully as we talk about the "data" part.
Read more about government open data
Read more on IT for government and public sector