Tiko - stock.adobe.com
How to futureproof your career as a CIO
Many CIOs have yet to earn the right to be on the board. How can IT leaders upgrade their business acumen, to benefit their own careers and the health of their employer?
Today, the role of the CIO is absolutely strategic. Yet, many companies are running without an IT leader on their board. According to executive research firm Russam GMS, as of the end of 2016, "just 2% of FTSE 350 boards have a CTO, CIO or CDO".
Many of those individuals vying for such a position have yet to earn the right to be on the board. The CIO (or equivalent) position must be filled by individuals who understand better the business context and challenges. The CIO must upgrade his/her business acumen, otherwise the risk is not just for one's career – it may risk the long-term health of the enterprise.
Part of the solution lies in partnering and collaborating with the right startups, teams and people. More importantly, though, it means being aware of the business imperatives and understanding how IT solutions link with the overarching company strategy.
It's no secret that digital transformation is now a top priority for virtually all major corporations, no matter the sector. As everyone is undergoing some form of transformation journey, it will now be down to execution. The urgency and complexity of the transformation is driven in large part by changing customer needs.
But, companies are also faced with a large selection of new digital platforms, devices and solutions that are forcing a change in the internal mechanics and organisation. In other words, they need to adjust not just their tech infrastructure, but their corporate culture. Everyone on the board is concerned by these changes, but the question remains as to who owns the transformation?
At some organisations, it's given to a chief digital officer or the chief innovation officer. For others, it's the chief operating officer or maybe the chief marketing officer. Rarely would the top brass these days assign the transformation to the person in charge of technology. Nor, for that matter, will companies hand that role over to human resources (HR). And yet, both HR and IT are the first two departments most deeply concerned and affected by digital transformation.
I believe every CIO – or individual aspiring to such a position – should do the following five things.
Get completely plugged in to the business. This means understanding the business challenges – who are the key customers, where are the major pain points, what is the corporate strategy, etc. It will be key to be on the ball regarding ethical and regulatory issues, none less topical than the General Data Protection Regulation (GDPR) in Europe. One of the keys to success of any transformation is to make sure that all the change – including the new projects and infrastructure investments – has a direct link to the strategic imperatives of the organisation.
Be the voice of the customer. As much of the change is being driven by customer needs, it's important to anchor decisions based on the customer experience. However, creating a fantastic user experience for your customer is no easy feat. It takes more than great design to make a superior customer experience as it often involves overcoming legacy systems, and legal and business hurdles. I like to encourage becoming a representative of the customer voice. A light-touch way of regularly hearing from the customer can be done by setting a Twitter account and filtering for customers talking about your products and services. Take inspiration from Ronan Dunne, who runs Verizon Wireless.
Understand the employee journey. We often talk about the customer journey, but an integral part of succeeding in the customer journey is making sure that the employees manning the different devices and platforms have as seamless an experience as possible. Are they being unnecessarily impeded by unfriendly firewalls, old equipment, clumsy or overly restrictive policies?
Excel in networking. To the extent most of these new technologies work in conjunction with other technologies, it's vital to have a strong network on whom to draw and with whom to collaborate. But beyond having a collaborative and sharing mindset with those outside the organisation, the way forward in any digital transformation project is to know how to work together, cross-functionally within the organisation. Any CIO should get cozy, in particular, with HR, sales and marketing, and customer service.
Become a hub of new tech. This means becoming the resident expert, who has tried out the new technologies, is writing about it inside and outside the company, is an accessible reference in matters of tech. The CIO might consider overseeing a laboratory of tech experiences and use cases. They should ideally seek to be invited to talk at conferences as a recognised expert. By building a strong personal brand, this will help attract other younger talent to your organisation.
Content Continues Below

Download this free guide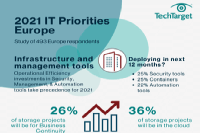 IT Priority Topics 2021 Infographic
This year, a survey was conducted quizzing nearly 500 European IT sector professionals to gather what topics they identified as being imperative for 2021. In this infographic see whether remote working is here to stay, if there will be shifts in information management trends and what infrastructure tools will be deployed by most in 2021. Download this PDF infographic to find out what the results showed.