dade72 - Fotolia
Four reforms to deliver competitive broadband
The UK will never benefit from 'gold standard full fibre' broadband without major reforms to the fabric of government, writes Ed Straw
When the government recently pledged "gold standard full fibre" broadband, a collective cheer went up – at least for a short while, until we reflected upon the fate of most such announcements, the realities of stuttering broadband, and the prospect of dealing with one of the big providers.
The history of this industry says the "gold standard" will not happen without four major reforms. Just how much of the pledged £1bn will end up in fibre to the premises and how much in waste or corporate profit? How many of the "up to two million homes and businesses" will actually experience merely another politician's promise?
My 35 years in and around government has led to a certain cynicism. Announcements are primarily designed to fend off the press, the opposition and campaign groups, and to buy the government time by throwing a new idea to the snapping packs. It's a familiar story: fast-forward a few years and the policy has been scrapped, it turns out no 'real' money was allocated, and the minster and civil servants have now changed.
Meanwhile, BT's answer to its failings, caused by its lack of investment in fibre and switches and its disorganised and costly installation and repair operation, is to invest in its customer service programme.
One local government official leading the installation of rural broadband spoke at a recent Local Government Association (LGA) conference. Malcolm Corbett of the Independent Networks Cooperative Association (INCA) was asked what it was like working with Altnet Gigaclear compared to BT. He thought for a few seconds, then replied: "It's like escaping from an abusive relationship." Everyone giggled, smiled, and understood exactly what he meant.
Poor governance leads to failure
Long gone are the days when BT stood up internationally as world class. The charge sheet runs to several pages. Why all these tricks? Why are they allowed? Why can't broadband be a real market, like retail, with real choice, straight pricing and products that work?
It is the hidden but broken hand of governance at the heart of this failure. The industry performs as well as its poor governance. This is invariably true. Every institution fails: Ofcom, the Department for Culture, Media and Sport (DCMS), government, the National Audit Office (NAO), the Commons, the Lords. And the reason they all fail is that they exist within a system of government that has never ever been designed for this purpose. It's not their fault; it's the system they inhabit. The reality is that this has allowed BT to become a national disgrace.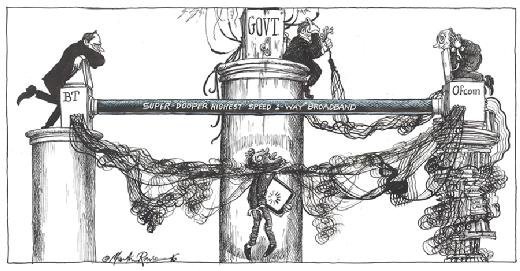 So what is to be done? Short of a much reformed system of government – entirely needed but would take a while to produce – our only hope is Parliament. Setting the terms of governance is, or should be, a major part of its job. It has to drop its obsequious acceptance of its place as a debating chamber, cross those party lines and grip the system. Hanging on to one's seat, hoping for a ministerial job, or finding refuge in one's constituency are insufficient excuse for ducking this issue.
Take action, get results
First, we need the facts of industry performance. Facts have to be produced independently: self-scoring ministers – or regulators – using rhetorically spun statistics conceal the truth. This is a job for a fully independent Office for National Statistics (ONS). Then we will no longer spend years arguing over the scores. Instead, we can concentrate on how to improve.
Second, the regulator has to be given strong objectives with all decision making in full view. The Monetary Policy Committee has operated this way since 1997, with members' views and votes recorded publicly. The discipline and learning this produces has resulted in an interest rate regime far superior to its previously politically set method.
The industry should be able to express its preferences, but not behind closed doors. All their submissions should be made public and subject to open discussion. No more lobbying in private. It should be rationed to give small companies equal air time.
Third, Ofcom and DCMS have to be staffed and led by specialists with the right experience. This should include tough enforcers. Lance Corporal Jones in Dad's Army had it right: "They don't like it up 'em!"
Fourth, Parliament should establish one select committee from both the Commons and the Lords, whose remit should be to ensure that all the above is happening and producing results. Its powers should include the appointment of the chief regulator and its board.
Then we need a plan – one that is based on a thorough grasp of practice in other countries, and that sets clear objectives for the services we need, and the actions to get us there.
Theresa May has said corporate governance needs to be strengthened. Indeed. Her greenpaper on industrial strategy has now been published and parts of it look sound. But certainly its broadband element will flounder without the reforms of government governance set out here. So it's time to act; then all those flowery promises should actually occur and we can compete.
High-quality broadband is not just about you or me watching The Crown in high-definition without a single whirring centipede interrupting our viewing pleasure. This is nation critical, this is industrial strategy, this is post-Brexit essential. The new digital divide between mainly rural and mainly urban areas is locking industry into the south east and limiting growth even in somewhere as wealthy as Gloucestershire. Business enablement (communications, logistics, roads, rail, and a skilled national workforce) is vital to be successful outside the EU. Wake up Parliament: your country needs you far more than your political party.
Read more about broadband
Read more on Telecoms networks and broadband communications