Manchester Airports Group chooses Capgemini for SAP S/4 Hana project
Manchester Airports Group has opted to put SAP's S/4 Hana ERP suite at the centre of its business efficiency plans, with Capgemini for project delivery
Manchester Airports Group (MAG), which extends to Stansted and Bournemouth, has chosen to place SAP's S/4 Hana enterprise resource planning (ERP) suite at the centre of its business plans.
Capgemini will do the service integration on the implementation, which will include Manchester, London Stansted, East Midlands and Bournemouth airports.
"We serve 48 million passengers every year, and it is crucial that our IT capability provides a solid foundation for innovation and future growth," said MAG CIO Garry Dowdle.
"The ERP transformation programme is at the core of MAG's IT strategy and will provide finance, HR [human resources] and procurement with the right processes, data and technology for the job," he added.
"The programme is focused on being a key enabler of profitable growth for MAG by delivering more efficient and higher quality information for business decision-making, supported by best practice processes and robust controls."
SAP launched S/4 Hana in February 2015 and now claims 370 customers globally. It comprises a re-write of the supplier's Business Suite ERP system to run on its in-memory database platform, Hana.
The contract with Capgemini will run to summer 2016. Five other systems integrators pitched for the contract, a spokesperson for Cap Gemini said.
The project will cover the integration of systems and processes at the airports, and the final system will be delivered, in part, over the cloud. Success Factors – SAP's HR cloud service – is part of the package, in the form of payroll. Other SAP cloud services, including Concur for expenses, cloud-based commerce applications and Ariba for procurement, are also part of the deal, Capgemini stated.
Capgemini senior vice-president and head of markets Nivedita Krishnamurthy said: "This new contract is a fantastic extension to Capgemini's significant airport experience across the world and we are proud to now be one of the leading providers of business application services to UK airports."
Read more about airport IT

Download this free guide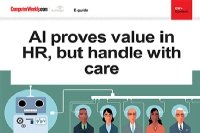 How AI is putting the 'human' back into Human Resources
Discover how the allocation of work by algorithm might have advantages for workers as well as employers, how AI is proving its value for HR and how data analytics is being used to support expansion and development.
Read more on Enterprise resource planning (ERP) software