Symantec fires a shot across the bow of VTLs
Symantec's NetBackup 6.5, due out in mid-2007, will include new support for disk-based backup without the need for a virtual tape library interface.
Symantec Corp. announced a new application program interface (API), designed to allow disk devices to work with its NetBackup software without the need to emulate tape.

The API, dubbed NetBackup OpenStorage, will allow NetBackup Version 6.5 to control when backup images are created, duplicated and deleted using disk backup targets. The storage device controls the "how" through processes like deduplication, single instancing, compression and performing replication.

Download this free guide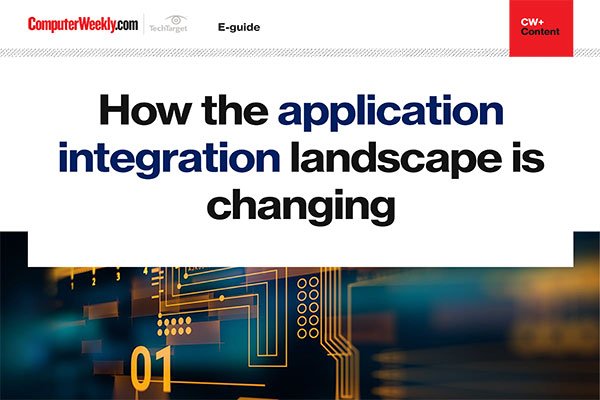 8 ways in which the application integration lanscape is evolving
We take a look at how technologies like Distributed Computing and the Common Object Model have been refined into web services, service-oriented architecture and composable applications and microservices.

By submitting your personal information, you agree that TechTarget and its partners may contact you regarding relevant content, products and special offers.

You also agree that your personal information may be transferred and processed in the United States, and that you have read and agree to the Terms of Use and the Privacy Policy.

Symantec said eight partners are developing products based on the API: Copan Systems, DataDomain Inc., Diligent Technologies Corp., EMC Corp., FalconStor Software Inc., Network Appliance Inc. (NetApp), Sepaton Inc. and Sun Microsystems Inc. Products are slated for release in the first half of 2007, prior to the general release of version 6.5 midyear.

Symantec was quick to say it won't be abandoning virtual tape libraries. Matt Kixmoeller, senior director of product management for NetBackup, said that NetBackup 6.5 will allow users to manage multiple backup devices, whether tape or disk, from one media server and management interface.

Whether or not one disk device could be used as both a virtual tape library (VTL) and a native disk backup target would be up to the partners developing on the API, according to Kixmoeller.

"I don't see VTL going away any time soon," said Dianne McAdam, analyst with the Clipper Group. "That's still pretty far out."

VTL's destiny in question

In the long term, "virtual tape devices are evolving into disk backup targets," Kixmoeller said. "The real value of VTLs is not tape emulation, but the intelligence and performance disk can offer in storing data."

Virtual tape libraries also have some inefficiencies in the way they store data, Kixmoeller said. For example, preallocating space for a tape-sized cartridge wastes storage capacity if the backup doesn't fill up that "arbitrary container," Kixmoeller said.

According to McAdam, features like replication, deduplication and encryption that are beginning to differentiate backup products would have more value than tape emulation in what she called the "unified backup platform" of the future.

Copan's Revolution 220 MAID array is one example of a disk-based backup product beginning to break away from VTL. The company, originally a VTL player, announced it will be tackling the secondary storage market in September. That announcement also included the launch of a partner program aimed at porting applications to the device.

McAdam said that the ability to treat "disk as disk" would become common among major backup software products. "I think Symantec is trying to get ahead of its competitors in making this announcement," she said.

Other industry watchers remained concerned that Symantec really is trying to get rid of VTLs altogether and to wrest backup intelligence out of hardware devices and back into its software. Skeptics also pointed out that the ability to bypass the tape virtualization layer would also come at a cost for customers.

Symantec officials said that licensing fees for the native disk integration feature will be available closer to the release of the new software.

What about tape integration?

According to the critics, VTLs are working just fine without the need for new interfaces with backup software -- except when it comes to control over tape copies within the VTL.

It's an issue that VTL vendors have tried to address on their own -- EMC embedded Legato and NetBackup version 5.1 in its EMC disk library and NetApp developed a feature for tape tracking within its NearStore VTL it calls Tape ShadowCopy. Analysts, meanwhile, have said that it will take changes to the backup applications themselves to allow their catalogs to fully control writes to tape out of the back end of VTLs.

According to Kixmoeller, that capability will also be included in version 6.5. "We are continuing to invest in supporting VTL devices," he said. "We aren't going to not allow customers to use VTLs."
Read more on Integration software and middleware