CIOs confident about budget but plan for economic slump
A positive economic outlook has CIOs feeling rosy about their IT spending next year, but economists warn shrinking corporate profit growth could be the thorn that bursts their bubble.
CIOs expect to head into 2007 with bigger budgets, but an economic slowdown could lead to IT belt-tightening at the end of the year.

Analysts are projecting strong single-digit growth for IT budgets in 2007. Framingham, Mass.-based IDC is projecting 6% growth for IT spending. Cambridge, Mass.-based Forrester Research Inc., which originally predicted a flat year, is now adjusting its projections and expects a 5% increase in IT spending.

Download this free guide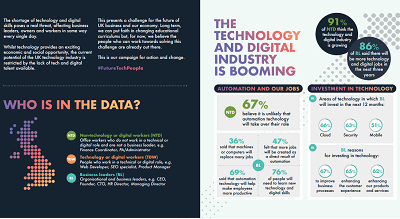 Infographic: How to future-proof UK technology
There is no doubt that the technology industry is booming right now, bringing with it exciting social and economic opportunities. However, there is a real fear that the UK industry may be stunted due to the lack of talent available. This e-guide helps to break down the future fears and expectations of dozens of business leaders and tech workers.

"We had been projecting that 2007 had been pretty much a flat year, zero to 1% growth," vice president Andrew Bartels said. "That was assuming a slowdown in the economy in late 2006 and early 2007. We now think, based on a lot of economic forecasts that are out there, that the U.S. economy will probably not slow down that much."

John Gantz, IDC's chief research officer, said a positive economic outlook has CIOs and line-of-business managers feeling rosy about their IT spending next year. But he said there are some warning signs that warrant caution as the year rolls on.

Gantz pointed to last month's survey of economists by London-based Consensus Economics Inc. The survey revealed that economists expect corporate profit growth to decline from 19% in 2006 to just 4% in 2007. Gantz said a decline in profit growth usually means a decline in IT budget growth.

"The message in the data that we have is that their expectations are a little optimistic and they need to know that," Gantz said. "Not wildly optimistic, but optimistic. The economists could be wrong about profits. Oil prices could continue to go down and the housing market could rebound. There is upside, but we think the downside is more likely."

Gantz said when corporate profits dry up, there is usually a one- or two-quarter lag before IT budgets feel the pinch. CIOs should be ready.

"Business profits have been outpacing economic growth for several years," Bartels said. "And there have been persistent questions as to how long that can continue."

Gantz's assessment is that IT budgets aren't necessarily tied to corporate profits but to revenue. He said slowed profit growth isn't something to worry about, but a decline in profits would be a worry. However, he said CIOs who make the case for projects that help companies grow and become more profitable will be able to protect their budgets.

"You want to continue to make the case, and document the case, for new investment that ultimately improves the bottom line," he said.

Bartels also said it pays to be cautious in managing ongoing expenses when there is a risk of an economic downturn. He said CIOs want to have costs under control in case the economy turns out worse than expected.

Richard Ridolfo, CIO of Simat, Helliesen & Eichner Inc. (SH&E), a New York-based aviation consultancy, said he expects his overall budget to grow by 7.5% in 2007. He said the bulk of that increase is tied directly to expenses (such as higher energy costs) and business growth. As a consultancy with a highly mobile workforce, the more business his company does, the more IT expenses it incurs, particularly with telecommunications expenses. Also, he said his company intends to increase its staff by 12%, which also requires IT investment to support those new employees.

Ridolfo said he isn't concerned about an economic downturn hurting his budget. He said it's the nature of his business. If a consultancy does less business due to a downturn, it incurs fewer IT-related expenses and costs go down naturally, easing pressure on his budget. Also, he said most of his capital expenses are aimed at fixing or reducing costs, such as a recent investment he made in a Cisco Systems Inc. telephone conferencing bridge, which replaced a service from AT&T that was becoming too expensive.

Ridolofo did say he has seen companies cut IT budgets in the past during a downturn.

"It is a very different picture in other industries," he said. "When I was at Forrester Research [as director of technical operations], during a downturn our budget was immediately reduced."

In recent years CIOs have adopted the practice of authorizing large, yearlong projects, Gantz said. They may return to the more incremental approach of approving projects in phases and on a quarterly basis, much as they did the last time IT budgets suffered during a downturn.

Bruce Blitch, CIO at Tessenderlo Kerley Inc., a Phoenix-based manufacturer of fertilizers and chemicals, said his budget will remain flat in 2007. He said he is always keeping an eye on the performance of his company and the economy throughout the year.

Like any other department within an organization, IT needs to be agile enough to adapt to a changing business environment, Blitch said. "A CIO should be connected to the financial pulse of the company. Much has been made of the higher success rates for smaller, shorter projects. An additional benefit is greater financial flexibility without a high risk of a project being cancelled in midstream."

Let us know what you think about the story; email: Shamus McGillicuddy, News Writer