NetSuite IPO has SMBs optimistic
NetSuite's long-waited IPO should reward SMBs' leap of faith in the SaaS pioneer.
Gerry Morton, CEO of EnergyFirst, a maker of protein shakes, has been using NetSuite products to run his 10-employee business for three-and-a-half years. The way he sees it, NetSuite's attempt to raise $75 million through an initial public offering (IPO) could be a good thing for customers.
"They'll have more money to invest in making the software better," Morton theorised. "I understand there is going to be a lot of cost and overhead associated with it and the company could potentially get defocused, which is not good. But I hope that is offset by the [money] they'll have to throw at improving their technology."

Download this free guide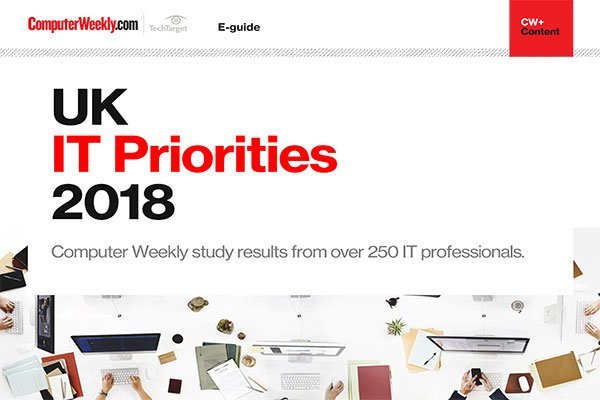 UK IT Priorities 2018 survey results
Download this e-guide to discover the results of our 2018 UK IT Priorities survey, where IT leaders shared with us what they are going to be investing in over the coming 12 months.

By submitting your personal information, you agree that TechTarget and its partners may contact you regarding relevant content, products and special offers.

You also agree that your personal information may be transferred and processed in the United States, and that you have read and agree to the Terms of Use and the Privacy Policy.

Founded in 1998 by Oracle Corp. CEO Larry Ellison and Evan M. Goldberg, NetSuite's chairman and chief technology officer since 2003, NetSuite offers Web-based accounting and other business software to small and medium-sized businesses (SMB) like EnergyFirst. In recent years, NetSuite has been gaining ground with companies that could not afford and did not warrant the kind of customised, enterprise-level business software offered by companies like Oracle.

Ellison owns the lion's share of the startup -- about 61% and an additional 13% in blind trusts set up for two grown children, according to Securities and Exchange Commission (SEC) documents filed July 2. In the hours after the NetSuite IPO was filed yesterday, Wall Street and technology analysts speculated on Ellison's potential conflict of interest, given his role at Oracle, and whether investors will take his competing interests into account.

"I can't help but think you're going to have a certain segment of that community that likes the way Larry runs a business," said Gartner analyst Gene Alvarez, who has followed NetSuite since its inception and covers e-commerce at the Stamford, Conn.-based consultancy. "There are others who might think Larry might not be the best person to run this company, because it takes his focus off Oracle."

A successful IPO should be good for SMB clients, just as Morton believes, Alvarez added. The extra cash will bring stability and more brand awareness to the company, and that's helpful in particular for divisional departments of large enterprises that might be using NetSuite even though the centralised IT department is not.

NetSuite hasn't yet turned a profit. It reported a loss of $23.4 million in 2006 and a first-quarter 2007 loss of $3.7 million. Still, its faith in the midmarket is proving prescient. SMBs accounted for about one-third of the approximately $12.7 billion spent by North American companies on ERP, customer relationship management (CRM) and supply chain management software applications in 2006, according to Gartner. Gartner projects SMB spending on these business applications to grow 11.3% annually from 2005 to 2010, compared with 5.8% for large enterprises, the filing notes.

New releases, new status

As a newly public company -- NetSuite hopes to raise $75 million in an auction-style IPO scheduled for September -- plenty of attention will be focused on its upcoming 2007 product release.

"I expect that to be phenomenal because it's a release right before the IPO," Morton said. "I wouldn't expect them to put out a poor release right before the IPO. If I got the next release after that and the software wasn't any better than the previous release, then I won't be too happy."

NetSuite customer Jeff Thompson, CEO of Towerstream Corp., a Middletown, R.I.-based provider of WiMax service, said he had faith in NetSuite's leadership.

"As a CEO of a company, you always have to worry about your shareholders," said Thompson, whose $7 million company has used NetSuite's CRM product for two years. "The thing they're going to have to be concerned about is the long-term growth and long-term profitability of the company. This is a growth stage for them. It's good for their visibility and it's going to give them the capital to grow quicker. It will also give their customers a better look at their company."

Olympus NDT Corp. chief operating officer Fabrice Cancre has been expecting NetSuite to go public for two years. "It's not a surprise at all because a successful dot-com or Web 2.0 company has to do an IPO," he said. "It's fashionable."

Cancre has been using NetSuite's CRM product since 2001, when the Software as a Service (SaaS) market was still emerging. "It certainly was a leap of faith," he said. His Waltham, Mass.-based 700-person division of Olympus Corp. manufactures nondestructive testing equipment for aerospace, energy, automotive and consumer products.

Some proceeds from a NetSuite IPO would go toward improving its sales distribution and extending its geographic reach, according to the SEC filings. NetSuite will also be able to beef up research and development on its software. Research dollars at SaaS companies in general go further than at companies that develop licensed software products, which are developed to accommodate multiple platforms.

"A dollar investment in R&D in the SaaS model is worth more than $1 in R&D in an on-premise environment, because there is a piece of that on-premise investment that has to go to all the platform- and infrastructure-related support issues," said Gartner's Rob DeSisto, who covers applications strategies and governance. NetSuite has focused on broad functionality, he said. A cash infusion should help make the suite "deeper and therefore a more viable offering for more companies," he added.

Let us know what you think about the story; email: Linda Tucci, Senior News Writer or Shamus McGillicuddy, News Writer
Read more on IT for small and medium-sized enterprises (SME)