News in brief
Short takes from this week's news
Short takes from this week's news
Microsoft confirms Explorer vulnerability
Microsoft has confirmed the existence of code that hackers could use to exploit a security bug in Internet Explorer. The code could allow hackers to execute arbitrary code on the user's system. Microsoft said it was investigating and would produce more guidance where necessary. A security update will be provided through the regular monthly patch release or a one-off release. The next scheduled patch release is on 11 April.

Download this free guide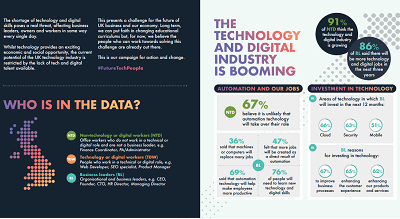 Infographic: How to future-proof UK technology
There is no doubt that the technology industry is booming right now, bringing with it exciting social and economic opportunities. However, there is a real fear that the UK industry may be stunted due to the lack of talent available. This e-guide helps to break down the future fears and expectations of dozens of business leaders and tech workers.
Government may split population register
The government is considering splitting the central population register, at the core of the Home Office's biometric identity card programme, into smaller databases that could be operated by several different companies. The plan is designed to address security concerns associated with holding vast amounts of personal data on a single database. The companies would be monitored by civil servants.
Samsung three face jail for fixing chip prices
Three Samsung executives have agreed to plead guilty on charges of conspiring to fix the price of computer memory chips with other companies, and now face jail. The three men have each agreed to serve prison terms of seven to eight months, and pay a fine of £147,000 each. A US government investigation into the price fixing of DRam chips in the US market has so far resulted in a total of £421m in fines, against 12 individuals and four firms.
Unison calls for council IT workers to strike
Work in council IT departments was expected to grind to a halt today as Unison called for its 800,000 local government members to strike over pensions. The one-day strike was called as part of Unison's efforts to secure the same early retirement deal that public servants in central government have achieved. Some 80% of Unison members voted in favour of strike action.
Taxman invests £340m in online infrastructure
HM Revenue and Customs is to invest £340m over the next nine years in its online service infrastructure, in line with recommendations made in Lord Carter's review of HMRC's electronic filing services, published last week. Carter's key recommendation is that HMRC should work towards universal online filing of tax returns from businesses by 2012.
Lost HP laptop prompts identity fraud fears
A laptop with personal data on 196,000 current and former Hewlett-Packard employees has been stolen, igniting another US identity fraud threat. The stolen laptop belonged to Fidelity Investments, which provides financial services to HP. The data stolen includes names, addresses, social security numbers, dates of birth and employment-related information.
Global IT spending set to increase 6.3% in 2006
Worldwide IT spending is set to increase by 6.3% in 2006 according to IDC. IT spending is expected to increase by 5.8% in the US, with 6% growth in Western Europe. The global increase in IT spending is down from 6.9% in 2005, which was boosted by increased spending on infrastructure upgrades. This year, growth is expected to be stronger in software (7%), with hardware and services spending expected to increase by 6%.
Brown cuts tax breaks for home computers
The government is cutting tax breaks designed to encourage the take-up of home computers by UK employees. Chancellor Gordon Brown announced in last week's budget that the tax exemptions offered within the Home Computing Initiative will end from 6 April. The initiative has allowed employers to loan computing equipment to their employees for personal use at home as a tax-free benefit.
Carphone Warehouse signs network deal
Carphone Warehouse has signed Indian support services company Patni to supply its fixed line and wireless networks. Patni will also be the retailer's mobile virtual network operator in Europe. Carphone Warehouse is paying a fixed price for the contract, which is believed to be for five years.
Capita boss quits over Labour loans affair
Rod Aldridge, executive chairman and founder of outsourcing firm Capita, has resigned from the company in the wake of the Labour loans scandal. Aldridge, who lent the political party £1m, said he resigned to protect Capita from the fall out of the "money-for-peerages" allegations. "As founder and chairman I have always seen it as my role to ensure that the group enjoys the highest possible standing and operates with total integrity," he said.