Technology news in brief
Short takes on this week's technology news
Too much time spent on admin, survey reveals
IT departments are spending 20% of their time on server administration, new research from Vanson Bourne has found. The survey of 100 IT managers, sponsored by integration specialist Morse, found patch management (35%), data back-up (28%), user account administration (23%) and server monitoring (14%) were the biggest IT headaches. Morse has launched a range of managed services to help businesses identify and selectively outsource server administration and management tasks.

Download this free guide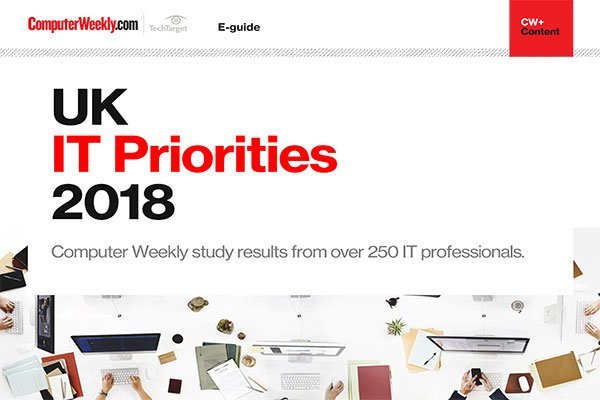 2018 UK IT Priorities survey results
IT organisations in the UK and across Europe are starting to accelerate the move to the cloud. Read more about the key areas in which senior IT managers are planning to invest in over the next 12 months.
Microsoft ties up deal with SugarCRM
Microsoft and open-source enterprise solutions provider SugarCRM have signed a deal that will see SugarCRM release its next customer relationship management suite under the Microsoft Community License scheme. The aim is to bolster interoperability between Microsoft Windows Server products and SugarCRM's open-source software. SugarCRM said one-third of its customers ran its products on Microsoft Windows.
RIM becomes number one PDA supplier
Research In Motion (RIM) became the leading PDA supplier based on worldwide shipments in 2005, according to analyst Gartner, accounting for 21.4% of total shipments. Its shipments in 2005 were up 47% from 2004. "RIM does not appear to be losing much momentum despite its legal problems and the threat of an injunction," said Todd Kort, principal analyst in Gartner's Computing Platforms Worldwide group. "Generally, Blackberry users are staying put."
Borland platform offers a better grip on IT
Borland Software is creating a platform with services to help firms get a better grip on their IT. The supplier is blending process improvement and skills training services with its Borland Tempo software to create the Borland IT Management & Governance (ITM&G) product. It includes automated best practices for helping to execute projects.
Read more on Data centre hardware