Storage Area Network School: Lesson 5
The most important things you need to consider when building a storage area network (San) from the ground up.
Storage Area Network School: Lesson 5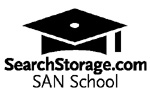 ---






Join Christopher Poelker, co-author, Storage Area Networks for Dummies for a webcast on how to design your San. This webcast explores the most important things you need to consider when building a San from the ground up.

View this lesson at anytime here.

More about "Lesson 5: Designing the San"

When you're thinking about designing a San, there are many important things that you need to consider before you jump right into it. For starters, you need to how the components fit together in order to choose a San design that will work for you. Like most storage managers, you'll want to design your San to fit today's storage needs as well as tomorrow's increased storage capacity. Aside from being scalable, the ideal San should also be designed for resiliency and high availability with the least amount of latency. Chapter 5 covers all these important design aspects and walks you through the process of creating a template design. In addition, Christopher Poelker also shares some tips from his experiences with building Sans as well as best practices he's learned along the way.

What you'll walk away with:
** In-depth knowledge of how to create an effective San design to meet your needs
** How to design a San for scalability and high availability
** When to use world wide name zoning and when to use port zoning
** Industry-wide tips and best practices
** The ability to ask Chris your specific San questions


Please join Christoper Poelker for this webcast right now.

Now that you've listened to San School lessons 1-4, take the first San School quiz.

About Christopher Poelker:

Aside from being an author and a SearchStorage.com San expert Christopher Poelker is a storage architect at Hitachi Data Systems. Prior to Hitachi, Chris was a lead storage architect/senior systems architect for Compaq Computer, Inc., in New York. While at Compaq, Chris built the sales/service engagement model for Compaq StorageWorks, and trained most of the company's VAR's, Channel's and Compaq ES/PS contacts on StorageWorks. Chris' certifications include: MCSE, MCT (Microsoft Trainer), MASE (Compaq Master ASE Storage Architect), and A+ certified (PC Technician).

Don't miss this event. Make sure to view it today.

***TEST YOUR KNOWLEDGE OF PART 2 -- TAKE OUR QUIZ***
Once you've viewed lessons 5-7, test your skills by taking the San School Quiz

Back to the San School table of contents.

"Designing the San"
Read more on Data centre hardware