Internet safety for kids: Tips on computer security awareness training
Children can be some of the most vulnerable Web surfers. In this Royal Holloway University of London thesis, Clara Brady and Chris Mitchell describe security awareness training strategies for kids.
Technology appears to hold no fear for children. Most of them take to computers and the Internet like proverbial ducks to water, and derive huge educational and entertainment benefits from it, but few of them know about the dangers lurking below the surface.

The big question is how to make children aware of the dangers without dampening their enthusiasm and appetite for the technology.

In a thesis written for Royal Holloway University of London, entitled Security Awareness for Children (see .pdf below), Clara Brady and Chris Mitchell report on research they have carried out at four schools in Ireland, where they gathered information about pupils' computing habits, and also their awareness of the potential dangers they might encounter.

Download this free guide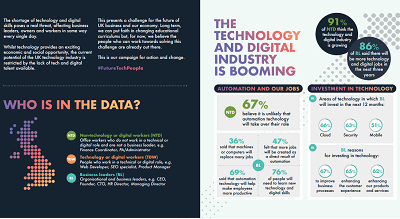 Infographic: Future-proofing UK technology
The current potential of the UK technology industry is restricted by the lack of tech and digital talent available. Read through this challenge for the future of UK business and our economy.

By submitting your personal information, you agree that TechTarget and its partners may contact you regarding relevant content, products and special offers.

You also agree that your personal information may be transferred and processed in the United States, and that you have read and agree to the Terms of Use and the Privacy Policy.

The results led them to formulate guidelines for Internet safety for kids. These include strategies for conducting computer security awareness training by running focused campaigns that seek to boost skills and knowledge about different aspects of security, such as handling emails or cyberbullying.

About the authors:
Clara Brady is a qualified primary school teacher from Ireland. Alongside her teaching degree she studied Mathematics as an academic subject, which is where she first encountered Cryptography. After a number of years teaching, she decided to further her interest in this area and returned to university to study the MSc in information security. She has organsied a Security Awareness Day for her school, and hopes to build on this next year and to continue to highlight and promote the need to educate children about using the Internet in other schools throughout Ireland.

Chris Mitchell is a professor of computer science at RHUL. His main research interests are in information security and combinatorial mathematics.

This article is based on a thesis written in the Information Security Group at Royal Holloway University of London.It is one of nine that SearchSecurity.co.uk is publishing exclusively in 2010 as part of its close collaboration with RHUL, which is in its third year.