InfoSecurity Russia 2013
At Infosecurity Russia 2013 in Moscow, Crocus Expo, on 26-th September, Ian Evans, EMEA Managing Director at AirWatch will discuss how to help organizations gain a deeper understanding of what BYOD entails and how to address security concerns with BYOD.
"Many employees today are bringing personal devices into the enterprise and accessing corporate information while mobile. When these devices and the content and applications associated with them are not secured, it introduces a wide range of security threats like data leakage and breached networks. Rather than trying to mitigate this trend by further locking down corporate resources, corporations can take advantage of it by empowering and securing the personal devices for business use through Bring Your Own Device (BYOD) policies. Enterprises must take advantage of this trend by empowering personal devices for productive business use through a secure BYOD platform and corporate container" – says Ian Evans.
Ian Evans is managing director for EMEA at AirWatch, a global leader and innovator in mobile security, mobile device management (MDM) and mobile application management (MAM) solutions. In this role, Ian is responsible for growing AirWatch's business in the European, Middle Eastern and African regions. Ian brings more t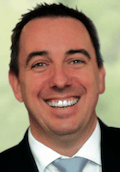 han 20 years of experience in the software industry and over 10 years in direct and channel sales to AirWatch. A diversified senior executive with global CRM technology applications and services experience, Ian has been successful in helping companies achieve their forecast goals by structuring sales and operation processes and coaching sales teams to deliver multi-year, million dollar contracts.
Prior to joining AirWatch, Ian worked at a number of global private companies. At Astea, a worldwide software solutions company, Ian was managing director, EMEA. Before Astea, Ian was director, EMEA for O4 Corporation, a global software company that focuses on delivering mobile sales solutions to the consumer goods and retail industry. Ian held the position of vice president at InforGlobal Solutions where he focused on increasing sales for the company in EMEA. In addition, Ian was a sales director at Pivotal Software, a subsidiary of China.com
Today Ian holds a degree in Computer Science.
All interested companies and IT specialists are welcome to send us suggestions on session topics and key speakers to int@groteck.ru
For information on exhibiting/visiting, please contact Alla Aldushina at aldushina@groteck.ru
For media partnership, please contact Ksenya Chernobay at chernobay@groteck.ru
GROTECK Business Media
International Team
Infosecurity Russia 2013
25-27-th September, Moscow,
Crocus Expo, Pavilion 2