Essential guide to optimising hybrid IT infrastructure
Gain the best performance from your hybrid cloud IT
Introduction
Many organisations are turning to a hybrid IT infrastructure - using a mix of public and private cloud, often alongside legacy on-premise systems. This hybrid environment presents new challenges for optimising performance, cost, application development and IT operations. In this essential guide, we include articles looking at best practice and key technologies in server, storage, networks, DevOps and hyperconverged systems to make the most of your hybrid IT.

1

Servers

-
Optimising servers and compute
What does hybrid IT mean for datacentres, servers, and on-premise compute power? We examine the issues
2

Networking

-
Optimising networks
Using hybrid cloud, with its mix of on-premise and public cloud systems, puts new demands on the corporate network. We look at the key strategies for hybrid IT networking

Download this free guide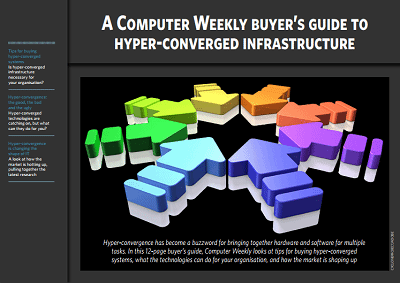 The buzz behind the buzzword: Hyper-converged Infrastructure
Hyper-convergence has become a buzzword for bringing together hardware and software for multiple tasks. In this buyer's guide, Computer Weekly looks at tips for buying hyper-converged systems, what the technologies can do for your organisation, and how the market is shaping up.
3

Storage

-
Optimising storage
Organisations need to manage data across in-house and cloud-based systems in a hybrid IT environment. Find out what to do, and the technologies you need
4

DevOps

-
Optimising with DevOps
DevOps involves combining IT operations and software development to improve productivity and deliver more flexible IT - as such, it's an important tool for optimising hybrid IT architecture
5

Hyperconverged infrastructure

-
Optimising with hyperconverged systems
Hyperconverged systems combine compute, network and storage capabilities into a highly optimised unit, making it an essential technology in a hybrid cloud infrastructure