ComputerWeekly "keeps-a-changing"
Where I come from in Norfolk, some of the older folk have a saying, "things keep-a-changing boy"…. It's a saying that is normally used to lament the march of "so called" progress, something that Norfolkians are not normally keen on.
Well despite being a kindred spirit with the good folk of Norfolk, I am a fan of progress and change. One of the things we said we would do when we relaunched ComputerWeekly was to continually evolve and devlop its offering. So…. read on to find out

We have just made some changes to our article pages.
The major changes are a modified right-hand column that has a toggle widget that toggles between CW-related content and the rest of the web related content.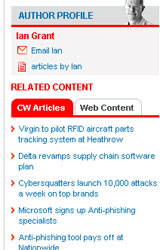 We have introduced clearer bookmarking and sharing icons on all our articles.
Author profiles have been beefed up as we know you like these and there is now a clickable link to all articles by that article's author.
You can see these features on the ComputerWeekly's current lead story – Airline bargain hunters targeted by brand scammers
Also at the base of this article you'll see we have added the most popular metrics at the base of the article for most popular news and research in that channel.
The featured blog now sits higher alongside articles.
There are also new sponsorship opportunities alongside articles in the Industry Resources widget in the right-hand column, which contextually links readers to a vendor's mini-site from articles that are pertinent or related to that vendor. For more information and details on this, speak toour sales manager Chris Martin.