CIO / CTO - Have you ever wondered how the roles differ?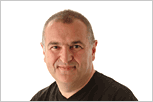 We all do it, subscribe to various feeds and newsletters that might one day prove useful. Today I struck a little nugget of gold.
I subscribe to
Techrepublic
and as a result got this little primer on the key differences between CIO and CTO roles. Running for only around 5 minutes this professionally produced content succintly describes the differences between the two and as a result has piqued my curoiusity as to what other quick snippets may be worth while watching.