Q
What considerations should be made when outsourcing IT infrastructure?
Expert Peter Wood explains how to investigate a partner's security posture when your IT infrastructure is outsourced.

Download this free guide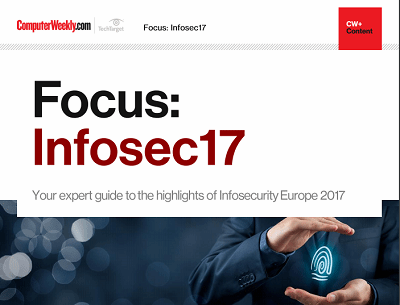 From forensic cyber to encryption: InfoSec17
Security technologist Bruce Schneier's insights and warnings around the regulation of IoT security and forensic cyber psychologist Mary Aiken's comments around the tensions between encryption and state security were the top highlights of the keynote presentations at Infosecurity Europe 2017 in London.
By submitting your personal information, you agree that TechTarget and its partners may contact you regarding relevant content, products and special offers.
You also agree that your personal information may be transferred and processed in the United States, and that you have read and agree to the Terms of Use and the Privacy Policy.
What security considerations should be made when outsourcing IT infrastructure, particularly with the network?
When outsourcing IT infrastructure, the first and most important thing is to ensure the contract requires your outsourcing partner to take security seriously, and will conform to your information security policy and standards (assuming you have them).
If you need an independent set of standards, then ISO/IEC 27002:2005 -- the
Code of Practice
for Information Security, is a good place to start. The information security guidelines and principles can be used as a checklist to determine the weaknesses in a company's general security posture.
You also need to ensure the contract gives you the right to audit and penetration test the infrastructure, processes and procedures.
If your proposed outsourcing partner is not able to respond proactively when you talk about security and audits, then you may wish to look elsewhere.
When sensitive documents are frequently travelling back and forth between a company and its business partners, email security becomes very important.... Continue Reading
In this expert response, Peter Wood outlines some alternatives to NAC systems, and explains why, sometimes, NAC systems really are the best choice. Continue Reading
In this expert response, Peter Wood explains the difference between database activity monitoring systems and security information and event ... Continue Reading
Read more on IT risk management