Q
PCI credit card compliance: Credit card data protection (over the phone)
Alan Calder discusses PCI credit card compliance and explains the importance of encryption to credit card data protection when primary account numbers (PANs) and CVV numbers are recorded over the phone.
As we move towards PCI credit card compliance, I have been asked by our call centre to look at installing a recording function on the phone system (as many do). The problem is that card transactions are taken over these phone lines, which means people's card details are recorded along with the conversation, and these include the security code.

PCI says you can't store this data, so how can certain providers sell their products to call centres and say these recordings can be stored for any length of time unencrypted?
Regarding credit card data protection, it is a requirement of the
Payment Card Industry's Data Security Standard (PCI DSS)
that all records that contain the primary account number (PAN) and the CVV number (the 3-digit security code), if they are stored together (which they shouldn't be), must be encrypted. If the vendor that you've chosen doesn't produce an adequate product for that purpose, I suggest that you look for alternatives elsewhere.
Content Continues Below

Download this free guide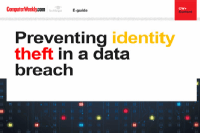 Preventing identity theft in a data breach
In this e-guide, we will explore the links between ransomware attacks, data breaches and identity theft. First, Nicholas Fearn investigates the phenomenon of the double extortion attack, and shares some insider advice on how to stop them, while we'll explore the top five ways data backups can protect against ransomware in the first place.
Expert Alan Calder responds to a reader's question: Must companies outside the EU change their websites to comply with EU cookie regulations? Continue Reading
Expert Alan Calder explains the security and compliance challenges for call centres that record telephone conversations and credit card details. Continue Reading
Alan Calder explains the basic requirements of the U.K. Data Protection Act of 1998. He highlights how to comply with the Data Protecting Act and ... Continue Reading
Read more on Application security and coding requirements