Storage pros to see small pay raises but big jump in terabytes managed
Storage professionals predict their salaries will rise in 2009 by nearly 5%. But with that small bump in pay comes a big increase in the storage capacity to manage.
Since 2007, the average annual salary for storage professionals in the UK has increased by 3.78% to £42,770. And despite the economic recession gripping the UK, storage professionals predict that in 2009 their earnings will rise by an additional 4.93%.

That was the key finding of the first salary survey of UK storage professionals conducted by SearchStorage.co.UK.

Among 160 survey respondents, the average salary for storage professionals in the UK in 2008 was £42,770, compared to £41,209 in 2007. Survey respondents say they expect salaries to rise in 2009, with the average anticipated salary £44,380.

Download this free guide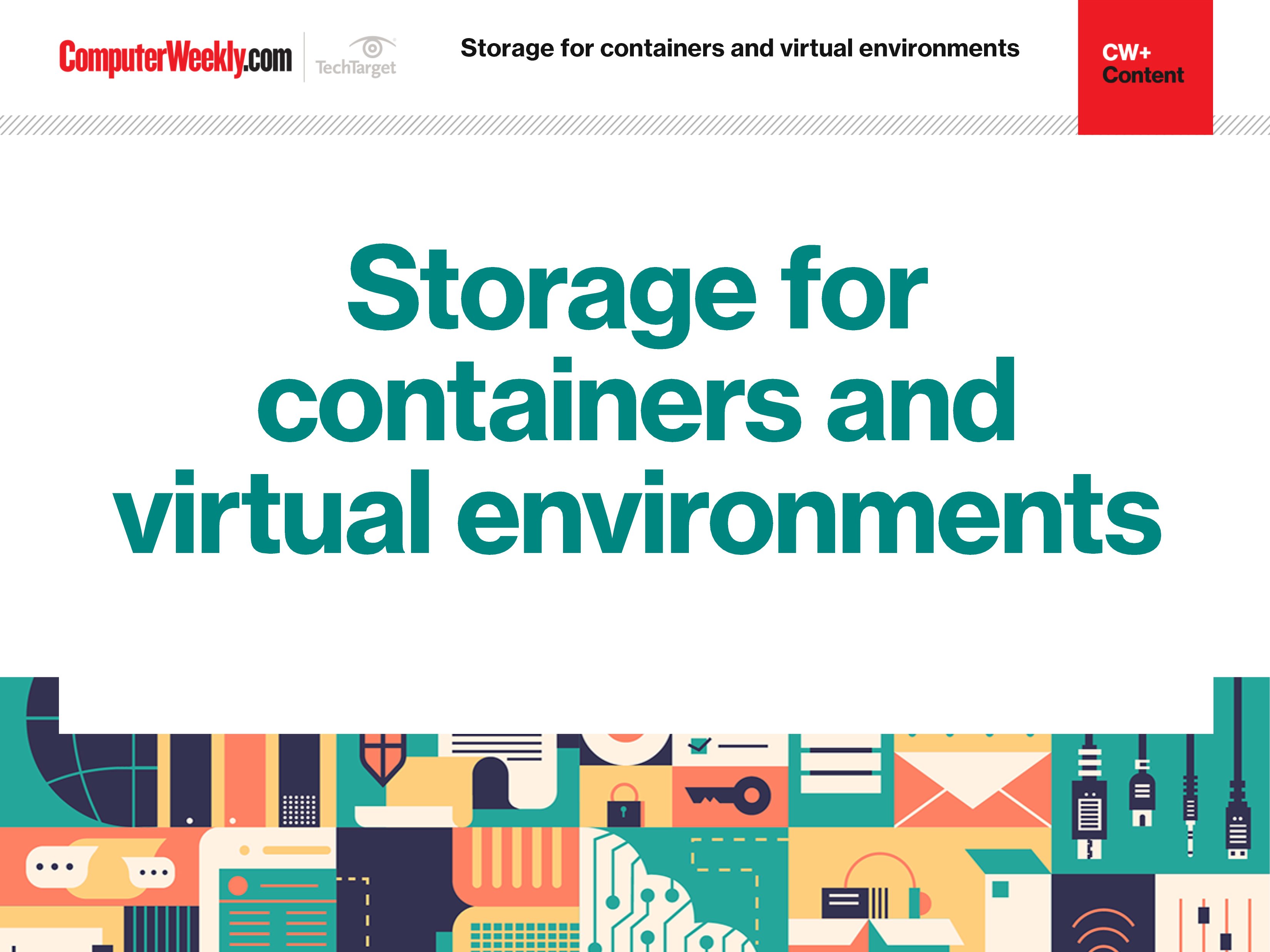 Top tips for managing storage in a virtual server environment
Get a complete run-through of the main choices in data storage for containers, look at the essentials of virtual server storage and learn about storage performance in virtual server and desktop environments.
According to the survey, the estimated average bonus in 2008 was £4,297, a leap of 31% from the 2007 figure of £3,277. But in 2009 bonuses are expected to take a hit, with respondents due to receive £4,245, which is a bit less than this year's.
If you want to get on your bike to find the highest storage salaries, your destination should be (rather unsurprisingly) London. Its streets may not be paved with gold, but the average salary for storage professionals for Inner London is £61,119, with Outer London at £57,713.
The next most remunerative regions for storage pros were the West and Wales and Southern England. Generally speaking, the farther north you go, the less you can expect to earn in storage. The exception to this rule is the East Midlands, where the average storage salary is only £28,500 – the lowest in the UK.
According to the survey, the highest-paid division for storage professionals is in a dedicated storage group. Respondents who worked in a storage group averaged a salary of £51,011 compared with £47,014 for those in a systems group and £35,857 for those in an application group. The place not to be for storage professionals? The networking group, where salaries averaged £31,399.
The more storage you manage, the greater your salary.
,
The two most lucrative vertical sectors for storage professionals are utilities and financial services, at £52,500 and £46,096, respectively. The three lowest paying? Construction (£27,375), education (£26,583), and transport/travel & hospitality (£26,300).

Want to earn more? Manage more storage
But with a higher salary comes the onus of managing more storage. Survey respondents report that they oversee storage capacities that have increased substantially. Consider these numbers:
18% of the respondents saw capacities increase by more than 50%.
19% saw capacities increase by 30% to 50%
39% saw capacities increase by 10% to 30%
10% faced no increase in storage capacity.
How much has your company's storage capacity increased from 2007 to 2008?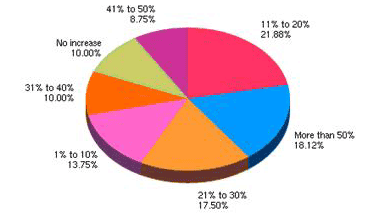 Storage growing by leaps and bounds
Vehicle accident assistance group Helphire has experienced storage growth of 50% per annum. According to senior infrastructure engineer Giles Ogram, that growth has been a source of stress, but investment in new infrastructure has alleviated some strain.

"We did have capacity and performance challenges," Ogram says. "But we're some way to resolving those now as we're in testing for addition of BlueArc unified storage to our NetApp filers."

At Internet hosting group RM Plc, storage capacities also increased. "Capacity is up by about 35% in the past year," says operations team leader Andrew Scott. "But, if anything, stress has gone down as we have been more successful in taking control through better processes and by being more proactive."

Another company facing a huge jump in storage capacity is application hosting provider BizNet Solutions. In the past six months, BizNet has gone from managing about 1 TB to 50 TB. But according to infrastructure administrator Daniel McLaughlin, the company has just implemented a couple of Sun Fire X4500 servers, or Thumpers. "If anything," he says, "dealing with more capacity has become easier, as we're not searching for space."

Storage growth may create stress, but the rule is, the more storage you manage, the greater your salary. The average salary for storage administrators managing 1 TB to 10 TB was £38,046. But that number dipped to £36,954 for those managing less than 1 TB. Meanwhile, those managing more than 250 TB received an average remuneration of £63,000.

Respondents want to move out of storage
Maybe all that talk about storage pros relishing the challenge of storage management is just a myth. Among survey respondents, 70% say they want to leverage their storage experience to move into another area of IT; only 30% say they want to remain in storage.

But sticking with storage can bring returns. Only 8% of respondents had more than 10 years of storage experience, but they averaged £63,166. Those with five years or less of experience barely made it into the £40,000 per annum bracket.

As you might guess, the main motivator for storage professionals is salary, with 54% of respondents reporting it as the major factor in job choice, followed by career advancement (20%), job responsibilities (15%) and company location (11%).

Noticeably absent among the motivational factors was recognition of the role of storage. And no wonder. In anecdotal comments, respondents invariably mentioned the lack of understanding that storage receives from other departments. "Other departments see storage as something that's just there," says BizNet's McLaughlin, "and only really notice it if it disappears."

Helphire's Ogram tells a similar story. "Most people don't realise how expensive storage is and that we can't just magically create new capacity," he says. "Users are used to being able to buy 100 GB in an external hard drive from a store and don't understand how storage works in an enterprise."

Education bigger factor than certification
Education level makes a huge difference in reported salaries. Respondents with post-graduate qualifications (i.e, a master's or a PhD) brought in an average of £60,146 per annum. Storage pros with a bachelor's degree or A-levels report drawing a salary of only £41,734 and £38,155, respectively.

According to the survey, the number of vendor certifications held has an inverse effect on salary. While storage pros with five or more certifications averaged a salary of £50,000, those with three attracted £51,800 per annum. Furthermore, while those with just one certification earned £38,333, the salary for those with no certifications was £41,895. So storage pros may want to remove some certifications from their CVs.

You can expect your salary to increase along with the number of people you manage and the size of budget you are responsible for. Managers overseeing one to five staff members averaged £40,771 per annum, while those managing more than 50 took home £62,196. Those responsible for no budget averaged £36,462, while those spending more than £5 million of company money pulled in £83,311.

Average salary by region
| | |
| --- | --- |
| Inner London | £61,119 |
| Outer London | £57,713 |
| West and Wales | £47,017 |
| S. London | £38,971 |
| West Midlands | £38,166 |
| NW | £35,687 |
| Scot/NI | £33,154 |
| NE | £32,857 |
| East Midlands | £28,500 |
Average salary by terabyte managed
| | |
| --- | --- |
| Less than 1 TB | £36,954 |
| 1 TB to 9 TB | £38,046 |
| 10 TB to 49 TB | £48,423 |
| 50 TB to 99 TB | £44,400 |
| 100 TB to 250 TB | £46,166 |
| More than 250 TB | £63,000 |
Average salary by section
| | |
| --- | --- |
| Self-Employed/Contractor | £55,750 |
| Utilities | £52,500 |
| Financial Services | £46,096 |
| IT Services | £46,068 |
| Healthcare/Pharmaceuticals | £45,166 |
| Other | £43,062 |
| Manufacturing | £39,456 |
| Public Sector | £38,615 |
| Media/Publishing | £32,875 |
| Agriculture | £30,000 |
| Construction | £27,375 |
| Education | £26,583 |
| Transport/Travel and Hospitality | £26,300 |
Average salary by storage experience
| | |
| --- | --- |
| More than 10 years | £63,166 |
| Six to 10 years | £47,150 |
| Three to five years | £40,927 |
| Less than two years | £39,658 |
Average salary by education
| | |
| --- | --- |
| Post-graduate degree | £60,146 |
| Bachelor's degree | £41,734 |
| A-levels/vocational | £38,155 |
Read more on Storage management and strategy