MAID 2.0 and disk spin down reduce energy costs
MAID 2.0 and disk spin down can power down disks according to use, making them prime technologies to reduce energy costs and cut the cost of storing persistent data.
By Manek Dubash, Contributor
MAID 2.0 and disk spin down allow drives to diminish their power usage during periods of inactivity; this lets users reduce energy costs associated with the retention of persistent data and data archives.

Download this free guide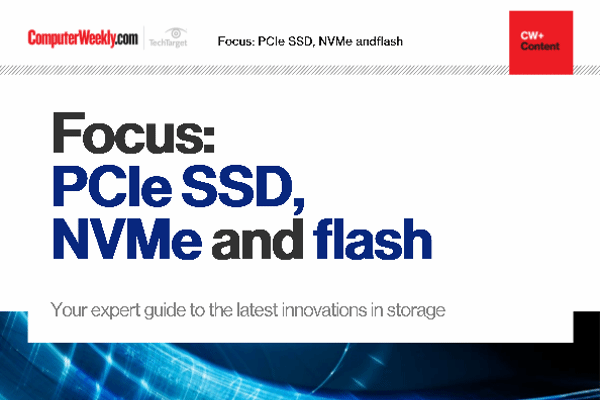 How to soar your storage performances?
The latest PCIe and NVMe technologies offer huge performance gains. Discover their features in this expert guide

By submitting your personal information, you agree that TechTarget and its partners may contact you regarding relevant content, products and special offers.

You also agree that your personal information may be transferred and processed in the United States, and that you have read and agree to the Terms of Use and the Privacy Policy.

As originally conceived, massive array of idle disks (or MAID) referred to arrays solely comprising drives that were either on or off, and that included characteristics such as high drive density with no more than half the drives spinning simultaneously as well as having self-healing capabilities.

However, the definition of MAID has broadened, with the term applied to any technique used to save energy by reducing or cutting the power flow to disk drives. This may or may not include complete spin down, but does include various stages of power reduction.

What hasn't changed is the general perception of MAID's suitability for storing persistent data, which is data that needs to be accessed relatively quickly but infrequently. "Backup and long-term archival storage are the immediate target markets for MAID systems," said Ian Lock, service director at storage specialist GlassHouse Technologies (UK).

Disk spin down and MAID-featured product vendors have targeted their technology at buyers of tape libraries and tape drives, and most major storage vendors have now implemented some form of disk spin down. "GlassHouse studies have found that between 70% and 80% of all data in a given organisation is inactive and very rarely accessed," Lock said. "Being open for business doesn't mean all an organisation's disk drives need to be spinning at full speed."

MAID and the market

Dedicated MAID products have achieved less than stellar market acceptance, and MAID/spin down technology remains underutilised six or seven years after its first introduction. Data on UK purchase levels for MAID- or spin down-enabled products has proved impossible to source, but according to Jeffrey Hill, senior research analyst at Aberdeen Group, a July 2008 survey of 177 US-based storage administrators asked what technologies they were using to boost storage efficiency. The survey results showed only 8% were using MAID. Testimony to a lack of demand for dedicated MAID products is SGI's recent acquisition of market founder Copan Systems, which had experienced a lengthy period of falling sales.

The key advantages of spin down and MAID-featured products are the access time of disk, even those that have been spun down, compared to tape and its power-saving capabilities. However, MAID's disk access times will often be too slow for primary storage use where rapid I/O is required, and this has limited its appeal. "MAID can achieve significant power savings but has a dramatic and negative effect on performance, as spin-up times for some drives are measured in tens of seconds," GlassHouse Technologies' Lock said. "This is impractical for most applications and doubts over its usability stopped most potential buyers from actually purchasing."

Lock also sees the advent of larger drives as a deterrent to MAID purchases in the midrange. "For most medium-sized companies with a few tens or perhaps hundreds of terabytes of capacity to manage, the savings from MAID are likely to be too small to justify the upfront purchase price of a dedicated system," he said. "This means that MAID really only makes sense for large enterprises."

Current MAID incorporates disk spin down

What we're seeing instead of dedicated MAID products, however, is the incorporation of disk spin down as a feature in storage arrays, with the desire to cut energy costs a key driver.
AutoMAID features mean you can function as you are but you also save energy, as the system identifies when a disk can be spun down.
Paul Alexander
IT & systems managerUK Open University's Knowledge Media Institute
And while so-called MAID 1.0 offered two states in which drives could exist — on or off — the current generation of MAID/spin down features in array products from vendors such as Nexsan offer four states of readiness. In "MAID 2.0" these are: fully on; fully on and spinning, but drive heads unloaded (heads switched off and parked and no longer in proximity to the platter, reducing air resistance and energy consumption by 20%); heads parked and platters spinning at a reduced rotation rate (reducing power consumption by 35% to 45%); and sleep mode, in which the disk is completely powered down. Each mode has its tradeoffs in terms of response time vs. power consumption but, essentially, the greater the energy saving the longer the access time.

Faster spin-up times and greater granularity of control mean MAID-like technologies could climb out of the deep archive trench to a more mainstream role. An example of this is at the UK Open University's Knowledge Media Institute, where a MAID 2.0 array from Nexsan is in use in a live production environment.

Nexsan SASboy with AutoMAID helps KMi save energy

The Open University's Knowledge Media Institute (KMi) was set up in 1995 in Milton Keynes to help its research and development efforts, including into artificial intelligence. Last year, the institute wanted to add 4 TB of mirrored, high-performance SAS-based storage to its 32 TB SATA-based DataCore SAN to store KMi's VMware-hosted virtual servers. An overriding criterion for Paul Alexander, IT and systems manager, was that KMi had to achieve this within its policy commitment to use only products proven to minimise impact on the planet.

"We involved the storage integrator NCE in the decision-making process because they've been a partner on a number of projects and we trust them to help us make an informed decision and bring us a range of viable options," said Alexander, who manages the organisation's desktop and server estate. But for him, there was only one solution: a Fibre Channel-connected Nexsan SASboy with AutoMAID, the vendor's three-level MAID technology.

Alexander said he chose Nexsan's technology over those from other storage vendors because of the Nexsan's proven commitment to energy saving. "We didn't want greenness, if you like, to be just a box-tick; we wanted it to take a major role in the decision," he said.

"From my point of view, the AutoMAID features aren't a compromise, they're the real deal. It means you can function as you are, but you also save energy, as the system identifies when a disk can be spun down." The other criteria were affordability, value for money and proven reliability; Alexander turned to other NCE customers to gauge the Nexsan's value in those areas and was satisfied by what he found.

Alexander said the deployment went well. "It genuinely was one of the smoothest deployments of any disk technology I've undertaken, and the management GUI was easy to understand," he said. "Then we did tests using AutoMAID at different levels to see if we could detect any difference. We couldn't detect any change in how it functioned."

Alexander said he was nervous about spinning disks down totally on a production system and so opted for AutoMAID level 2, which unloads the heads, slows disk rotation to 4,000 rpm and, according to Nexsan, achieves between 35% to 45% energy savings with a 15-second recovery time. "It's hard to measure the exact savings, but we are saving energy," said Alexander. "It's better than using 100% energy, and we still notice a performance improvement compared to when we were only using SATA disks."

Alexander said he was pleased with the outcome. "We could have spent more within our budget but wouldn't have gained the performance, and we would have lost out on our green credentials. We have met our objectives," he said.