Incident response template for effective incident response planning
A well-conceived incident response plan helps deal with incidents effectively. Use our incident response template to create a robust incident response plan.
An increasing number of organizations are stressing the need for foolproof disaster recovery planning to safeguard against the consequences of disasters. One critical component of any robust disaster plan is the incident response plan.

Download this free guide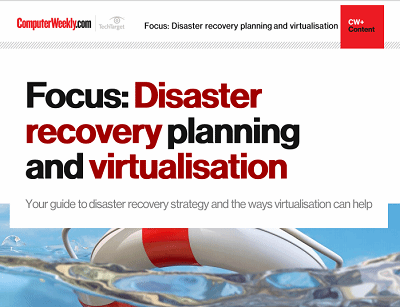 Virtualisation therapy for your disaster recovery plan
Computer Weekly takes a good look at how features and functionality built into popular virtualisation environments can help with disaster recovery planning, testing and execution.
By submitting your personal information, you agree that TechTarget and its partners may contact you regarding relevant content, products and special offers.
You also agree that your personal information may be transferred and processed in the United States, and that you have read and agree to the Terms of Use and the Privacy Policy.
An incident can be regarded as any abnormal condition that can cause disruption in the day-to-day business operations of an organization. It can impact a particular business unit of the organization, or a particular geographical region that the organization operates in, or the worldwide operations of the organization. An incident could lead to business disruption or a crisis situation.
Incidents could be of various types. For instance, a fire in the stationery room of an organization could lead to a major crisis if not detected and dealt with early. Another example could be that of a virus injected into the LAN of the organization's network, which, if not quarantined early, could infect all nodes and cause significant business disruption.
An incident response plan is essential to enable an organization to effectively deal with incidents well within a reasonable timeframe. You can download and use our incident response template to prepare a comprehensive incident response plan for your organization. The incident response template takes into consideration a range of important objectives. Keep the following points in mind while using the incident response template to draft your incident response plan:
The incident response plan should categorize incidents based on the severity and potential impact of the incident.
Incidents should also be categorized by nature of the incident, indicating whether they are related to facilities, IT, power, or other elements.
An incident management committee should be formed for each incident category, apart from a master committee that will be kept informed of all types of incidents.
A global command centre should be set up to coordinate between various geographies in case of a natural disaster at any location.
Incident response and resolution times should be defined as per the severity levels and specified using the incident response template.
The escalation process should be well defined for all types of incidents.
For contact outside of business hours, contact information of relevant personnel as well as vendors must be specified as indicated in the incident response template.
The incident response plan should also stress on education and training of employees for dealing with natural disasters such as earthquakes, tsunamis, fire and other exigencies.
The incident response plan should stress the fact that communication among the parties involved and affected by the incident should be clear and communicated at regular intervals depending on the severity level of the incident.
The incident response plan should be reviewed quarterly to verify the accuracy of emergency contact information and be updated as required.
Using the incident response template, the drafted incident response plan should contain the procedures that will be used to make employees aware of the emergency contact information on a regular basis, whether through mock drills or specified email communication.
Thus, the objective of the incident response plan is to facilitate detection and resolution of any incident as early as possible, corresponding to the potential impact of the incident. A well-conceived incident response plan ensures organizations are well prepared to deal with most eventualities that could lead to major business disruption. Our incident response template makes the tasks of preparing a comprehensive incident response plan that much easier. Use this free incident response template to save your organization much grief and much money.

About the author: Anuj Sharma is an EMC Certified and NetApp accredited professional. Sharma has experience in handling implementation projects related to SAN, NAS and BURA. He also has to his credit several research papers published globally on SAN and BURA technologies.
Read more on Disaster recovery