Problem solve
Get help with specific problems with your technologies, process and projects.
Evaluating business continuity options on cloud services
Cloud services enable offsite data storage, thereby providing business continuity on the fly. The benefits are many, but there are issues to watch out for.
The realm of business continuity is seeing highly competitive solutions on offer in recent times, with the introduction of cloud technologies to keep costs down. Customers' have always demanded highly resilient business continuity services despite having limited budgets at their disposal. Traditionally, business continuity has proven to be an expensive proposition, with a range of requisite procurements, including redundant servers, backup/restoration products, dual network links, and so on. In addition, the real estate cost is also a factor when it comes to building a recovery site.

Download this free guide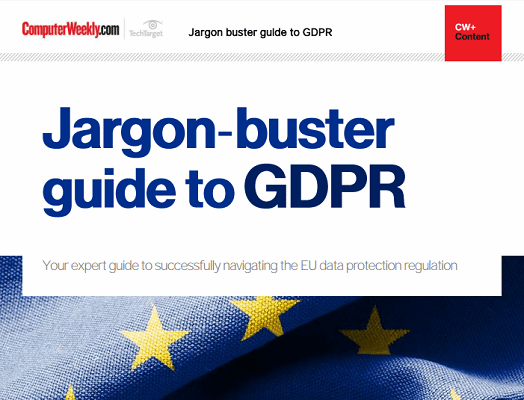 Jargon-buster guide to GDPR
The 10 most important things you need to know about GDPR, and a jargon-buster explanation for some of the key terminology.
By submitting your personal information, you agree that TechTarget and its partners may contact you regarding relevant content, products and special offers.
You also agree that your personal information may be transferred and processed in the United States, and that you have read and agree to the Terms of Use and the Privacy Policy.
Now, with cloud services in the picture, business continuity solutions can offer unprecedented flexibility and highly resilient infrastructure at significantly lower costs. The cloud service has the elasticity and scalability to support rapidly changing business requirements, while enabling savings on energy, IT infrastructure and real estate costs for the customer.
Benefits of moving business continuity to the cloud
1. Cost saving: Significant saving on cost is the main attraction for organizations to adopt cloud services for business continuity. With the cost of IT infrastructure soaring high, considerable amounts of money would have had to be set aside for locally-owned resilience infrastructure. On the other hand, cloud services provide backup and recovery solutions on the fly. This model enables ubiquitous access to data through diverse channels. By moving to the cloud one can save on procurement cost of additional server space, networks and redundant systems. You pay only for the content that you deliver through the network, without any minimum commitment or upfront fees.
Things to watch out for:
There are always surprises when you don't pay attention to terms and conditions of the contract. There may be hidden costs under the hood. Here are some points to note:
Cost of managing the risk of the data that resides on the cloud (audit cost, external VA/PT, and so on).
Integration cost and migration cost from traditional local systems to the cloud services.
Regulation costs due to stricter data privacy laws and encryption costs.
Costs of portability of moving from one cloud service provider to another in the event of unacceptable levels of performance or services.
2. Geographically diversity
Cloud services allow you to store data at the offsite locations. The data will be hosted at the cloud service provider's premises. The cost of renting an offsite premises would be considerably lowered by adopting cloud services. Some cloud service providers also give you the option of storing the data at particular geographical locations. This can be useful or required in some situations. For example, European companies have cross-boundary regulations, whereby the company data cannot be stored outside European territories. In addition, during extreme situations, if your primary sites go down, data can be accessed from the offsite at the cloud service provider's locations. So you have an on-the-fly business continuity solution. Many cloud providers offer their services across the globe.
Things to watch out for:
If your organization requires that data reside in a particular country or region, this should be drafted and agreed upon in the contract. Also, the data might require some level of encryption during transmission.
3. Minimal operational effort
With cloud services, internal effort for managing routine backup operations is minimized. The existing backup products can be woven into the cloud fabric seamlessly. The cloud services can be configured to take backups at regular intervals. With the cloud service taking care of automated backup, local operational and management efforts are much reduced.
Things to watch out for:
The volume of the data should be estimated ahead of time prior to subscribing to the cloud services. The size of the data will have an impact on cost, if the pricing model links cost to size.
Network bandwidth and performance should be tested and verified to ensure that backup is taken within the stipulated period of time.
Data compression would come handy to reduce the size of the data and help in enhancing the performance of the backup.
4. Performance
Performance and quality is a pivotal factor while moving business continuity services onto the cloud. Cloud services can give you an optimum performance with limited cost. Cloud has the elasticity to dynamically scale up during peak hours, and scale down at other times. Most of the cloud service providers offer a pay-per-use model.
Things to watch out for:
Performance and quality could be a sticky point for an organization accessing large chunks of data over the cloud.
Performance levels should be tested during the integration on the cloud, and later be continuously monitored for performance.
Performance reports available on the Internet should be studied and compared with competitive offerings prior to subscribing to the cloud service.
The service level agreement should be meticulously drafted taking into consideration quality of service and the performance level of the service providers. The uptime promised by the service provider is also something that should be reviewed.
Read more on Cloud computing services