Problem solve
Get help with specific problems with your technologies, process and projects.
Career as a CIO : Leverage social networking as a marketing tool
Today's CIO career necessitates that an IT leader markets himself. Here are some tips to help you use social networking to transform your career as a CIO.

Download this free guide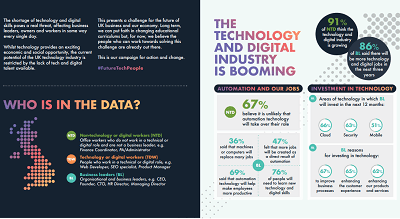 Infographic: Future-proofing UK technology
The current potential of the UK technology industry is restricted by the lack of tech and digital talent available. Read through this challenge for the future of UK business and our economy.

By submitting your personal information, you agree that TechTarget and its partners may contact you regarding relevant content, products and special offers.

You also agree that your personal information may be transferred and processed in the United States, and that you have read and agree to the Terms of Use and the Privacy Policy.

Meeting friends and acquaintances in the physical world is an excruciating time-constraint for most people. But log on to a social networking site, and one sees plenty of exchanges between people—be it job searches, self-promotion, loans, networking, or finding friends—and it's not child's play. When the discussion is limited exclusively to resources that are relevant to your career as a CIO, it's critical to note that many CIOs have grown substantially in the recent past by effectively utilizing professional networking sites like LinkedIn.

Professional social networking sites like LinkedIn can make a sea change in the career of a CIO, especially since his role necessitates that he be most well connected and crucial to a company. LinkedIn acts as a virtual business calling card in such cases for the CIO's career growth.

When it comes to leveraging social networking sites, it's not just about promoting your career as a CIO. Like any (real world) social setting, there are certain rules to abide with on the social networking front as well.

•Transparency builds trust. Starting from posting an activity, transparent functioning is vital for people to believe you, and your credibility as a CIO.

•On a networking site, you can search for peer members from different companies as well as verticals, and get introduced to them. Thus you can get in touch with fellow CIOs to exchange information useful for career growth and new opportunities.

•CIOs can effectively use the 'question and answer' section for airing views, getting queries answered, and receiving suggestions from experts in their area of work.

•You can participate in debates and discussions relevant to your career as a CIO—part of the many communities formed under different verticals.

•Updates from other networks based on demand and request will empower your career as a CIO, as well as help you align yourself with the latest in the market. You can even meet your human resource requirements by using relevant searches for new employees. It's even possible to seek specific profiles for certain portfolios within these sites.

You will witness frequent industry updates on professional networking sites. They are in direct sync with the latest happenings, which are of significant benefit to your career as a CIO.

New users often wonder if it's worth the time and effort for professionals to spend on such sites. The answer to this query is that professional networking sites simplify problems and come up with innovative techniques. There are processes that bind people together, contributing to your CIO career growth. A CIO can capitalize his presence on the site to his and his organization's benefit.

Leveraging peer networks on professional networking sites like LinkedIn is mainly from a quality and quantity management standpoint, which is considered extremely important. Such inputs will hasten companies to respond better to customer demand.

However, there are certain rules when seeking to enhance your career as a CIO on professional social networking sites. You must be careful of what you mention and what you should not, on such sites. When providing information, remember to answer according to the asked for requirements.

In today's times, the mantra is survival of the fittest. So, if you want to be ahead in the CIO career race using social networking sites, then it requires 24/7 updates on upgrades and happenings around in our world. And, actively leveraging a professional networking site such as LinkedIn will surely work out for the best, when it comes to your career as a CIO.



About the author: Suresh A Shanmugam heads business IT solutions (BITS) at Mahindra & Mahindra Financial Services Limited, and is an active LinkedIn member.

(As told to Anuradha Ramamirtham.)

Read more on CW500 and IT leadership skills