Storage professionals talk spending in Purchasing Intentions survey
See storage managers' spending plans for their budgets, disk systems, DR, storage management, storage virtualisation and more in the results of our SearchStorage.co.UK Purchasing Intentions survey.
IT shops in the UK and Europe are spending less money on storage this year for the second year in a row, according to the results of our 2011 SearchStorage.co.UK European storage Purchasing Intentions survey. But significant amounts of money are still being spent. And price is now the key product criterion in many product areas, while perceptions of high price have limited solid-state storage adoption.

Download this free guide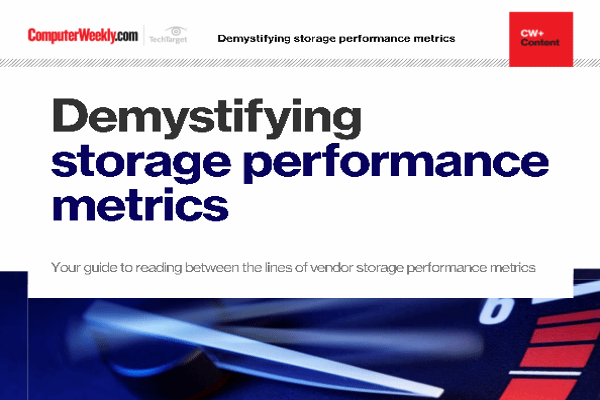 The truth behind storage metrics
Key storage metrics you need to know and how to decode IOPS, latency and read/write performance figures
By submitting your personal information, you agree that TechTarget and its partners may contact you regarding relevant content, products and special offers.
You also agree that your personal information may be transferred and processed in the United States, and that you have read and agree to the Terms of Use and the Privacy Policy.
The survey, which asked 302 storage professionals representing businesses with an average annual revenue of £896 million about their storage budgets and spending intentions, showed that the biggest chunk of UK and European storage spending goes on disk systems and new disk capacity.
Meanwhile, Fibre Channel deployments have increased in prevalence, especially for virtual server environments, and more people now back up VMs with VMware's VCB than a traditional backup app.
On the vendor front HP is the most popular vendor for disk systems, disk-based backup and tape libraries, while Brocade eats into Cisco's dominance in switches.
Read on for the details of our survey. Results are split into three parts: budgets and disk systems, backup, and the rest. You can click to jump to each part or go straight to sections within them below. For information on how the survey was conducted, see "About the SearchStorage.co.UK 2011 storage Purchasing Intentions survey."
Storage budgets and disk systems
Switches, green, cloud, compliance, DR, storage security, storage management, storage virtualisation