Green storage: The state of energy-efficient technology
Find out how green storage solutions and energy-efficient technology are being implemented, and how European storage professionals prioritize green products.
Green storage and energy-efficient technology have been topics of discussion for several years, but they've taken a backseat to more pressing issues in the data center, such as budget cuts and huge rates of data growth. Now there's evidence that green storage is a priority for UK storage professionals. Read our special report on green storage to find out about two companies that have implemented new technologies for efficiency and found a green side effect. And get details on our survey of your European peers on their attitudes about green storage. Finally, hear from one IT analyst who identifies the key technologies and processes that drive power savings.

Download this free guide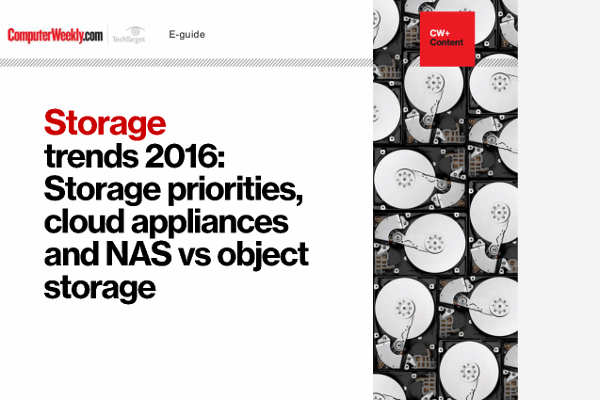 Storage trends 2016: Storage priorities, cloud appliances and NAS vs object storage
Our guide to the latest shifts in the Storage to-do list for IT departments, cloud appliance providers, and what to do with large volumes of unstructured data
By submitting your email address, you agree to receive emails regarding relevant topic offers from TechTarget and its partners. You can withdraw your consent at any time. Contact TechTarget at 275 Grove Street, Newton, MA.
You also agree that your personal information may be transferred and processed in the United States, and that you have read and agree to the Terms of Use and the Privacy Policy.



Data storage technology brings data center power consumption benefits
In the race to improve performance, many companies are finding unexpected side benefits as more efficient systems lead to environmental gains. Read about two customers that realised the benefits of green storage.


Green data storage technology survey: Green storage a priority for European storage professionals
According to a recent SearchStorage.co.UK survey of 136 European technology professionals, green storage is a priority, and a substantial minority has started implementing plans to cut power consumption. In addition, green storage issues are important during the storage hardware buying process, and many users would pay extra for more energy-efficient hardware. Get the details on the survey findings.


Green storage technologies let data centres enable energy-efficient storage
In this podcast interview, Clive Longbottom, service director at UK-based analyst firm Quocirca, explains what is driving green storage, as well as the technologies and processes that can bring greater energy efficiency in data storage.