The race to reduce latency has calmed down in recent years, but firms are still looking at ways to trim down trading time, with a laser beam connecting New York Stock Exchange and the Nasdaq, the latest development.
According to reports, Anova Technologies is deploying a laser link in the 35 miles between the two organisations, promising to shave nanoseconds off the time it takes for a message to cross between them.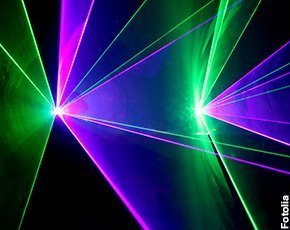 Lasers have an advantage over fibre and microwaves. They go direct from point to point, do not deteriorate over distance and can carry heavy bandwidth loads. Messages are limited to travel at the speed of light so trading companies look for other ways to reduce time taken from point to point.
Mariano Salomon, FSI Business Manager at Supermicro UK, a provider of high-speed trading technologies to the financial sector, said consistency is as important as speed.
"First it was fibre-optic cables, then microwave radio signals, now it's laser beams. It appears that there is nothing that high-speed traders won't consider for that all important speed advantage. [But] jitter, where network congestion triggered by the differences in the time lag between data being sent and arriving, could create considerable trouble to most algorithms out there irrespective of the tool being used to increase trading speeds. 
"This is why we are seeing very few HFT firms basing their trading strategies on just speed alone. Instead, these firms are looking to invest both time and capital in the technology infrastructure that not only produce greater speeds but also more consistent ones."
Read more about trading systems
Increased competition in the trading sector drove stock exchanges to reduce the time taken to complete an order from milliseconds to microseconds.
The arrival of multilateral trading facilities (MTFs) in the UK, such as Bats Trading, injected competition in the sector. At the time of its launch it boasted trading times 10 times faster than the London Stock Exchange, with the ability to process trades in under a millisecond. At the time the London Stock Exchanges could complete a trade in three milliseconds.
But by 2011 the London exchange was completing trades in microseconds itself following its core trading platform renewal. The LSE acquired trading software maker MillenniumIT in September 2009 for £18m. It gave the LSE a new trading system to replace its .Net-based Tradelect software, which was unable to keep up with market changes. Tradelect had got trading times down to the low milliseconds, but competitors were surpassing this.
Algorithmic trading software allows trading firms to automatically buy and sell huge volumes of shares in short time periods to take advantage of tiny changes in prices.
The speed at which a share trading exchange can complete a trade has been the biggest differentiator in recent years, as exchanges attempt to cater for traders using computers to trade automatically at high frequencies. But speed became a commodity and exchanges looked at other ways to stand out from the crowd.
Email Alerts
Register now to receive ComputerWeekly.com IT-related news, guides and more, delivered to your inbox.
By submitting your personal information, you agree to receive emails regarding relevant products and special offers from TechTarget and its partners. You also agree that your personal information may be transferred and processed in the United States, and that you have read and agree to the
Terms of Use
and the
Privacy Policy
.