Some companies in the UK are still refusing to embrace flexible working, despite the savings it could offer, according to a new survey.
The poll conducted by YouGov on behalf of Vodafone showed 22% of workplaces did not have any flexible working policy, despite 63% concurring that the standard nine-to-five working day was unnecessary and 62% believing flexible working led to more positive employees.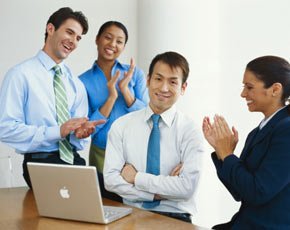 Hot-desking has been far from embraced with just 18% of the firms having a policy in place. Of the senior decision-makers interviewed, 36% said reducing desk space would be "inappropriate for their business" while 33% thought it would damage the collaboration or teamwork in a company.
Overall, two in three businesses said they could not lose any desks from their environment. Yet, there seemed to be a lack of understanding of how much cutting desk space could save.
Respondents to the study thought it only cost £441 per year on average to house an employee in an office. However, Vodafone cited a DTZ report showing the average cost of having a full-time desk for each employee came in at £5,746.
Read more on flexible working
By taking the number of businesses in the UK and the average number of desks the survey showed could be cut, Vodafone claimed UK companies could save £34bn if they took on flexible working projects and reduced the number of desks they had.
"We need to get Britain working smarter and thinking about different ways of working," said Jeroen Hoencamp, enterprise director at Vodafone UK. "A potential saving of up to £34bn is staggering and this research reveals businesses are underestimating the savings they can make through reducing the number of desks they have.
"In the current economic environment it is vital that businesses make the most of opportunities to save money while improving business performance. The desk-bound, building-based work model no longer works for every business."
Although the most common form of flexible working cited by the respondents was working from home, Hoencamp said there had to be more to it to have a truly functioning workforce.
"The best solutions will differ from business to business but flexible working is more than just working from home," he added. "It's about working from wherever you need to be, whether that is from a café with a client, a customer's HQ or during your commute.
"Companies that think their employees must always be present in their offices in order for them to work has been a bone of contention in recent weeks and it is good that the issue is being discussed. This research reinforces that business leaders are open to new ways of working but are blinkered to how it can be implemented on a day-to-day basis."
Email Alerts
Register now to receive ComputerWeekly.com IT-related news, guides and more, delivered to your inbox.
By submitting your personal information, you agree to receive emails regarding relevant products and special offers from TechTarget and its partners. You also agree that your personal information may be transferred and processed in the United States, and that you have read and agree to the
Terms of Use
and the
Privacy Policy
.