Mobile email, device management get big boost
Sybase iAnywhere has updated its Afaria and OneBridge products to ease mobile email, applications, security and device management.
When mobile email, applications and security get thrown together into the mix, device management can become one hectic chore.

This week, Sybase iAnywhere announced some additional building blocks to ease and enhance all of those things. At the Mobile Business Expo in Chicago, the company introduced new versions of two main components of its Information Anywhere Suite, a portfolio of tools for enterprise mobility solutions.

Download this free guide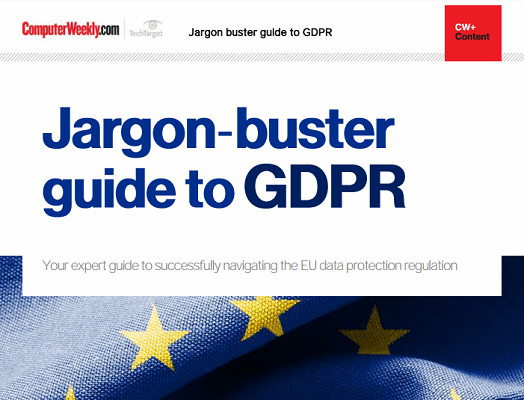 Jargon-buster guide to GDPR
The 10 most important things you need to know about GDPR, and a jargon-buster explanation for some of the key terminology.

By submitting your personal information, you agree that TechTarget and its partners may contact you regarding relevant content, products and special offers.

You also agree that your personal information may be transferred and processed in the United States, and that you have read and agree to the Terms of Use and the Privacy Policy.

As a whole, the Information Anywhere Suite is designed to help enterprises address converging requirements of mobile email, device management, security and application enablement. This week, iAnywhere hit the streets with updated versions of its OneBridge and Afaria products, introducing version 5.5 of both.

Together, OneBridge 5.5 and Afaria 5.5 provide interoperability across technologies to optimize wireless communications, simplify IT requirements, and improve the mobile user's experience.

Joe Owen, vice president of engineering for Sybase iAnywhere, said the two new releases solve some thorny interoperability problems that arise when data push and security are used in the same environment.

"The combination of two things enterprises are interested in doing are at the core of the problem," Owen said. He added that push is a great model, but securing data in a push environment is a tricky endeavor, and pushed data is a bigger exposure risk.

"Having push email and encryption is tricky," he said. Owen added that making encryption aware of push technology and vice versa can be sticky.

The OneBridge updates allow for out-of-the-box, real-time push delivery of data, including email, calendar, contacts and tasks.

According to Senthil Krishnapillai, manager, product management, OneBridge at Sybase iAnywhere, the OneBridge updates interoperate with Afaria 5.5, support more than 130 mobile devices, simplify the evaluation process, and provide admins and users with better security, management and email capabilities. The latest OneBridge version supports Nokia E and N series devices and Sony Ericsson P990i and m600 devices running the Symbian 9 operating system. It is also reconfigured to reduce the number of device-to-server authentications.

Afaria 5.5, the update of Sybase iAnywhere's frontline management and security solution, is enhanced to provision devices wirelessly and expand device security functionality. It is also updated to feature remote control for Windows Mobile devices and has expanded Patch Manager capabilities.

Owen said that Afaria 5.5 includes FIPS 140-2 compliant encryption modules, improved Security Manager usability, and full interoperability with OneBridge and Microsoft Exchange Server to ensure that wireless technology can be used to push email to devices while maintaining the security of mail and PIM data.

Duke University Health Systems (DUHS), which was recently awarded a Mobile Impact Award from the Mobile Enterprise Alliance for its use of Afaria, wanted to mobilize its physicians, professors, medical students and researchers by giving them access to patient information and other materials via their PDAs. To do so, DUHS had to ensure that all information was secure and complied with strict HIPPA regulations.

According to a case study chronicling DUHS's deployment, the health center needed to centrally manage the PDAs. The medical center used iAnywhere Afaria to manage all of the devices, applications, data and communications. The solution also helped the organization to manage software distribution and updates, provide access to current information, and enable device management and security from a centralized browser interface.

One main goal of the project was to mobilize the staff while also being able to manage and support users without having to physically touch each device, according to Allen Coleman, IT manager of the mobile computing group for Duke Health Technology Solutions.

"The physicians wanted to be able to view current information on patient status, lab results and other data to allow them to deliver the best possible care," Coleman said in a statement. "To provide this capability, we needed to be able to deliver and update a patient information application and to ensure the security of the information in accordance with HIPAA regulations. They also wanted access to other related reference information, such as pharmaceutical and insurance formulary information."

Coleman and his team evaluated several mobile management tools and selected Afaria because it allows for proactive management of all devices, applications, data and communications. Also, he said, Afaria's ability to manage software distribution and updates, provide access to current information, and enable device management and security from a centralized browser interface has made the deployment a success.

"Equally important," Coleman added, "the technology was essentially transparent to our end users, which is always the sign of an effective and well-designed technology solution."
Read more on Antivirus, firewall and IDS products