Storage news round-up:EMC pledges $20M for Oracle
EMC will invest $20 million over the next year in its partnership with Oracle; LSI Logic makes StoreAge acquisition official; Nexsan, FalconStor partner.
This Article Covers
RELATED TOPICS
EMC expands Oracle alliance
EMC Corp. plans to invest $20 million over the next 12 months on test and development lab equipment and joint services with Oracle. As part of the updated deal (EMC and Oracle first began a partnership over a decade ago), EMC has donated over 30 terabytes (TB) of storage gear, as well as software products to the Oracle Enterprise Technology Centres in Reston, Va., and Atlanta. The two companies have also agreed to jointly design, build, test and document management products for Oracle Database 10g and Oracle E-Business Suite 11i . EMC has established a dedicated team of Oracle architects for both enterprise and midsized organisations to assist customers with Oracle/EMC deployments, specifically for Oracle's new Real Application Clusters and Automated Storage Management (ASM) application.

Meanwhile, there was a flurry of Oracle-related announcements this week made to coincide with Oracle OpenWorld 2006 in San Francisco. Elsewhere in the storage market, Sepaton Inc. announced at Oracle that its S2100-ES2 Virtual Tape Library (VTL) system has attained certification with Oracle Secure Backup tape backup management software. In another release, Solix Technologies Inc. announced a nontrigger-based version of its Archivejinni archiving platform for Oracle database. Previous versions of the archiving product used database triggers in order to archive data, which caused performance overhead.

Download this free guide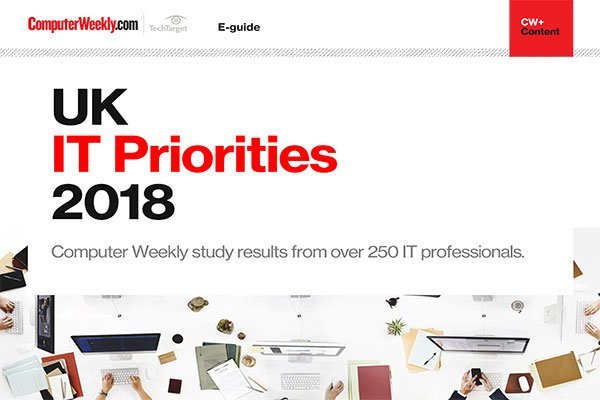 UK IT Priorities 2018 survey results
Download this e-guide to discover the results of our 2018 UK IT Priorities survey, where IT leaders shared with us what they are going to be investing in over the coming 12 months.

By submitting your personal information, you agree that TechTarget and its partners may contact you regarding relevant content, products and special offers.

You also agree that your personal information may be transferred and processed in the United States, and that you have read and agree to the Terms of Use and the Privacy Policy.

LSI Logic makes StoreAge acquisition official
LSI Logic Corp. will acquire virtualisation player StoreAge Networking Technologies for approximately $50 million in cash, as reported by SearchStorage.com. StoreAge is a privately held company based in Nesher, Israel with U.S. offices in Irvine, Calif.; Upon closing, LSI anticipates offering employment to all StoreAge employees, who are expected to join the company's Engenio Storage Group. The transaction is expected to close in the fourth quarter of 2006.

Meanwhile, back at the ranch, LSI also certified IP storage management appliance Reldata Inc.'s 9200 IP storage gateway with its storage. The combined products will allow for parallel iSCSI SAN and CIFS/NFS NAS storage provisioning, as well as remote replication and recovery services.

Nexsan MAID gets in bed with FalconStor
Nexsan Technologies and VTL software supplier FalconStor Software Inc. announced the availability of a joint VTL product that combines FalconStor's VTL software and Nexsan's AutoMAID (massive array of idle disks) array, a SATA-based disk array that can connect over iSCSI/IP or Fibre Channel (FC) and scale up to 315 TB in one rack. Nexsan MAID competitor Copan Systems has had its own MAID VTL since April 2004.

Exanet, Asigra claim storage of a billion files
Clustered NAS supplier Exanet Inc. and agentless remote backup software player Asigra Inc. announced that a joint configuration of the companies' ExaStore and Televaulting systems has stored more than one billion files on one distributed file system. Using an ExaStore two-node high performance cluster and an Asigra N+1 DS-System, 1.13 billion data files were distributed to remote site servers during the test.

Stellent does records management for Enterprise Vault
Stellent Inc. announced a Stellent Universal Records Management agent for Symantec Corp.'s Enterprise Vault email archiving software. Stellent's agent for Enterprise Vault automatically applies records and retention rules. and litigation holds to email and other content within the archive in accordance with corporate policies.

NeoScale touts 4 Gbps tape encryption
NeoScale Systems Inc. announced the addition of two products to its CryptoStor Tape line of security appliances: the CryptoStor Tape FC712 and the CryptoStor Tape SC702. The new appliances support native 4 Gbps interfaces; the CryptoStor Tape 712 allows customers to double the number of tape drives secured on a single channel -- up to five at one time. The CryptoStor Tape SC702 secures data to SCSI-attached tape drives.

DNF, iQStor ship 4 Gbps entry-level arrays
Dynamic Network Factory Inc. (DNF) introduced the Enterprise F16fz, a RAID subsystem that supports 750 GB SATA-2 drives and dual 4 Gbit FC host connections. The system is available in configurations from 2 TB to 12 TB and also supports up to 1 GB of RAID cache. Pricing starts at $12,000 for entry-level configurations.

Meanwhile, iQstor Networks Inc. announced general availability of its iQ2880 storage system in a 4 Gbps FC configuration. As in previous versions, the iQ2880 also includes storage services, including snapshot, mirroring and remote replication. Each iQ2880 supports up to 15 drives providing 4.5 TB of storage capacity using 300 GB FC4 or 11.25 TB using 750 GB SATA2 drives. It can scale to 72 TB with FC or 180 TB with SATA2 drives and can be scaled using the J2880 switched bunch of disks (SBOD) expansion enclosure. A 1.2 TB configuration with volume manager and system manager software is priced starting at $12,995.

Mimosa reaches 100 customer mark
Mimosa Systems Inc. announced Pinnacle Financial Corp. as its 100th customer for its NearPoint for Microsoft Exchange Server archiving product within 15 months of product availability. Other recent customer additions include: AAA; Dot Foods; Florida Department of Law Enforcement; Grange Mutual Insurance Co.; Halifax Medical Centre; Kirton & McConkie law firm; Pacific Gas and Electric Co.; and the Texas Comptroller of Public Accounts.

SBE IP SAN director suite supports iSCSI boot
SBE Inc. and emBoot Inc. announced that SBE's IP SAN Director Suite has been added to emBoot's list of supported iSCSI targets for winBoot/i. Using winBoot/i, SBE customers can now boot any Microsoft Windows 2003 server from iSCSI storage.

Australian engineering firm picks Juniper
Juniper Networks Inc. announced that Aker Kvaerner Australia, a wholly owned subsidiary of Aker Kvaerner ASA, a provider of engineering and construction services, has deployed Juniper Networks WXC 250 WAN application acceleration platforms to accelerate wide area network (WAN) CIFS traffic between a project site in South Western Australia and design offices in Perth, Western Australia and Santiago, Chile.

NetApp touched by stock options scandal
Network Appliance Inc. (NetApp) announced that a shareholder derivative lawsuit has been filed against the company alleging improper practices relating to the timing of stock option granting. "The company believes the lawsuit to be completely frivolous and without merit … [and] is confident that the record will support its determination that no backdating of stock options occurred," NetApp said in a press release.

Stock options backdating suits and, in some cases, criminal charges, have swept through companies in the tech sector recently, most of it relating to incidents that occurred during the "tech bubble."

Azaleos offers email services version 2
Managed email services startup Azaleos Corp. announced availability of version 2.0 of its managed email offering that will add archiving, reporting and security features to its OneServer and BladeMail email appliances -- each of which is sold together with Azaleos' OneStop managed services for email management.
Read more on Networking hardware