VoiceCon Fall 2007: Unified communications still has barriers
Unified communications (UC) offers streamlined communication, but significant challenges still need to be addressed.
This Article Covers
RELATED TOPICS
This week's VoiceCon conference had many unified communications (UC) demos highlighting how communications are changing. In many ways, the vendor popularity of the technology also highlighted how broad, complex and unproven it is. Despite the hype and promise, significant roadblocks lie ahead.

Download this free guide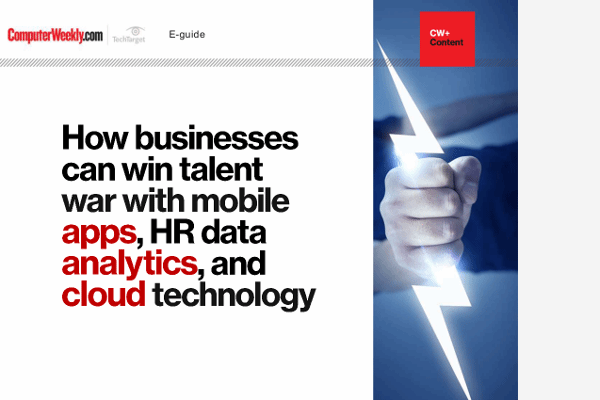 How businesses can win talent war with mobile apps, HR data analytics and cloud technology
Latest articles on HR best practices: mobile apps disrupting the annual staff appraisals; reasons for and against open-source software; and Rolls-Royce case study.
By submitting your email address, you agree to receive emails regarding relevant topic offers from TechTarget and its partners. You can withdraw your consent at any time. Contact TechTarget at 275 Grove Street, Newton, MA.
You also agree that your personal information may be transferred and processed in the United States, and that you have read and agree to the Terms of Use and the Privacy Policy.

As I walked around the VoiceCon show floor meeting with many of the vendors, I noticed that every vendor claimed to be not only a UC vendor but a "leading" UC vendor. I liked many of the demos I saw because they gave me some good ideas on how I might better leverage the technology and improve my own personal efficiency. For example, the speed at which one can now move information across various communications mediums will help cut much of the delay out of what I do on a daily basis.
The other thing I noticed at the conference was the variety of ways UC is being positioned by the various vendors. I saw network-based UC, desktop-based UC, messaging-based UC, open source UC, video UC and mobile UC, and I'm sure there were other forms of UC I can't remember off the top of my head. The long-term vision of what UC can do for corporations and end users was very similar from vendor to vendor. UC promises to make all of us more productive by tying together all of our communications and messaging tools, allowing us to streamline current business processes and create an entirely new set of communications-enabled business processes. So from the vendor point of view, the industry is all set. We've entered into a new paradigm in communications from a number of perspectives. Sounds great -- but from the IT, telecom and network managers' points of view, there are significant challenges that are not being addressed.
First, "the industry" talks about UC as a market category, but I've yet to run across an organisation that has a UC budget, or a chief UC officer or UC strategist. The way the UC market is made up today, the vendor community is trying to make UC everything, which, in fact, makes it nothing. This provides potential deployers with no real guidance as to how to get started and what kind of roadmap to put together.
Second, everyone talks about these fantastic communications-enabled applications, but practical examples are few and far between. When I pressed the vendors on real-life examples, the typical answers I got were a bunch of theoretical examples of things that might be possible for companies that are planning to do something, but very little in the way of real examples. From the discussions I have had with the customers currently deploying UC, the primary motivation has been cost savings, with productivity a distant second. Solid examples customers can use to model their own environments are required to make productivity benefits (these may be soft) the main driver.
Lastly, UC should be about unifying communications from multiple vendors, not just a single vendor. Although every vendor preaches openness and interoperability, truth be told, most of what's available is still proprietary. Sure you'll see some demos of Cisco interoperating with IBM, or Avaya with Microsoft, but the systems are far from plug-and-play. Realistically, as companies grow, acquire and merge, it's highly unlikely that any corporation of significant size will standardise on a single UC vendor. The vendors selling these products can help adoption along by making the interoperability and federation between these systems much simpler. This will give the buying community the confidence to invest in a system that will meet the needs of the business now and into the future.
So, let's say you believe in UC and want it for your organisation, but you're totally confused as to how to get started. What should you do?
There are many productivity benefits, but you still need funding to get the project rolling. With that being said, I would take a look at the various areas of communications spending and figure out the two or three key areas of UC that would provide the most cost savings and use this as a starting point. For example, when travelling overseas, the cost of making calls from a cell phone is extremely high. A soft phone and unified messaging client could eliminate almost all those costs.
Productivity improvements are very hard to quantify because they normally involve some sort of process change. While the vendors talk about it all the time, it's just not that easy to sit down with someone and discuss how UC can alter a process and what the impact is. I'd start with a few technically savvy, high-impact users and discuss with them how having disparate communications systems hampers them. Apply UC to those very specific parts of the process first, and then look to expand when you have some examples.
Push the vendors as hard as possible on federation. It's extremely important that the various vendor platforms work seamlessly together, and a user community that simply accepts this will push most vendors into doing the work to truly federate. By taking a stand now, you'll be much better off in the long run.
In summary, I think the key messages and vision of VoiceCon Fall 2007 -- centred around software integration, openness and productivity improvement -- were the right ones. Now, I think it's time for the vendor community to step up and show everyone how to get there.
About the author: Zeus Kerravala manages Yankee Group's infrastructure research and consulting. His areas of expertise involve working with customers to solve their business issues through the deployment of infrastructure technology solutions, including switching, routing, network management, voice solutions and VPNs.
Read more on Collaboration software and productivity software