Online crime and fraud cost small businesses £800 a year, according to the Federation of Small Businesses (FSB), which is calling for more action to tackle the problem.

Download this free guide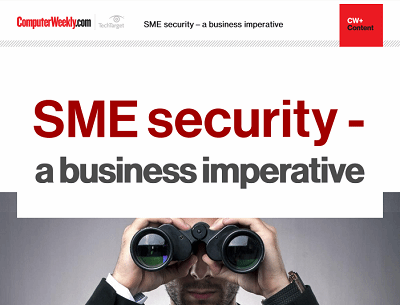 The secret to winning - SMEs and cyber security
50% of SMEs plan to spend less than £1000 on cyber defenses in the next year and only 42% of SMEs are concerned about ransomware. Anyone see a problem? Computer Weekly outlines some solutions to this growing naive trend.
By submitting your personal information, you agree that TechTarget and its partners may contact you regarding relevant content, products and special offers.
You also agree that your personal information may be transferred and processed in the United States, and that you have read and agree to the Terms of Use and the Privacy Policy.
A survey by the FSB, which represents more than 215,000 businesses, found more than half (54%) reported being a victim of crime in the last year. Only one-third reported it to the police or their banks because they lacked faith in the system.
This mistrust arose following the absorbtion of the former National High Tech Crime Unit into the Serious Organised Crime Agency in 2006, which left no-one responsible for commercial and technology e-crimes.
The FSB said nearly 40% of respondents had had problems with phishing emails, 15% fell victim to card not present fraud, and another 15% suffered IT problems caused by viruses and hackers. The financial costs of fraud ranged between £500 and £5,000, with an average cost of £768 a year, it said.
More than half (53%) of the small businesses surveyed said they needed clearer information about how and where to report this type of crime. Some 44% wanted a named contact in their local police force specifically focused on fraud and online crime.
Some 85% of English and Scottish businesses said they would report fraud if there was a designated reporting centre to gather data, investigate the crime, and follow through with prosecutions. This echoes steps already taken in Wales, which already has a reporting centre.
The FSB called for a central, well advertised and accessible way to report fraud and e-crime. But it also wanted assurances that the authorities understood the issues and could act on the information.
Respondents want the Police Central e-Crime Unit (PCeU), which is expected to be launched on Monday, and the National Fraud Strategic Authority, to set up a National Fraud Reporting Centre this year, the FSB said. They need to work together closely to ensure the centre is established soon and fulfils these criteria, it added.
The FSB also wants a local police contact to specialise in fraud and e-crime with respect to small businesses, and for banks to warn businesses up front of card not present fraud.
FSB chairman Mike Cherry said the cost of e-crime could hit a small business hard.
"It is important that the Police Central e-Crime Unit and the National Fraud Reporting Centre work hand in hand to set up an effective system to gather intelligence and use it to investigate and prosecute when this crime occurs. Businesses are currently simply being left very exposed," he said.
E-Handbook

E-Handbook

E-Handbook
Read more on IT for small and medium-sized enterprises (SME)