IT services firms expand offshore operations
IT services suppliers will continue to build out their low-cost sourcing networks across multiple regions in 2009 to improve their cost base in challenging...
IT services suppliers will continue to build out their low-cost sourcing networks across multiple regions in 2009 to improve their cost base in challenging market conditions.

Download this free guide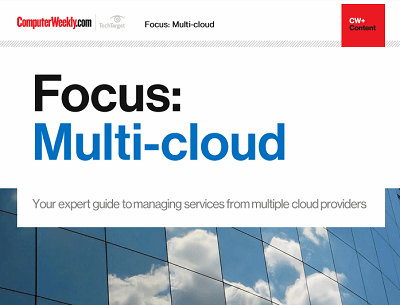 Mixing and matching your cloud options
Many IT leaders are increasingly coming round to the idea that sourcing services from one or more providers might be the best way to go. From a cost and resiliency perspective, some workloads might work better in one cloud over another. Or a certain provider might boast some functionality that suits a particular process the enterprise is looking to implement, but falls short in other areas, prompting the company to adopt a mix-and-match procurement strategy. Join us as Computer Weekly takes a closer look at the multi-cloud approach and what providers are doing to capitalise on the trend.
By submitting your personal information, you agree that TechTarget and its partners may contact you regarding relevant content, products and special offers.
You also agree that your personal information may be transferred and processed in the United States, and that you have read and agree to the Terms of Use and the Privacy Policy.
According to research from consultant PAC, India was the most popular global sourcing location for the world's largest IT services suppliers in 2008, but vendors are now looking beyond the country's two former hotspots of Bangalore and Mumbai for new sites.
The 50 largest IT services companies worldwide opened a total of 49 new offshore or nearshore delivery centres for IT and BPO services last year (compared to 35 in 2007), with India accounting for eleven of that number.
None of the new Indian sites was in the country's two major IT skills hubs of Bangalore and Mumbai, with Chennai, Noida, Hyderabad and Pune emerging as the most popular locations for suppliers including Accenture, IBM, Logica and Wipro.
This week, TCS announced a new site in Bhubaneswar in Eastern India, and plans to open further centres in Pune, Nagpur, Gandhinagar, Kochi, and Chandigarh.
But while India remains the number one global sourcing location, another key trend is for large services companies to spread their sourcing locations across multiple countries.
Ten new centres were opened in Latin America and a further six in China last year. As local suppliers in these countries mature, international vendors are increasingly looking to expand through acquisition rather than setting up their own centres from scratch.
In the last month, CSC purchased a Bulgarian company, while ACS moved for an Argentine contact centre services firm.
The top 50 vendors also opened four new sourcing centres in the US in areas outside major metropolitan areas, such as North and South Carolina. This is a trend that may be further encouraged in 2009 by the election of President Obama, who is keen for the technology sector to be one of the drivers behind domestic employment, said PAC.
Nick Mayes, senior consultant at PAC, said: "Current cost pressures may see some plans for new sourcing centres put on hold in the immediate short term. But IT services vendors will continue to ramp up their use of multiple, low-cost sourcing centres in 2009 - particularly in areas such as infrastructure management and BPO - in order to remain price competitive and protect their profit margins."
Read more on IT outsourcing