Four hot storage startups from the floor at VMworld 2011
VMworld 2011's Solutions Exchange saw a bright new crop of storage companies step onto the industry's stage. We were there to watch them debut.
VMware may be wagging the storage industry's dog with innovations like the Virtual Storage Appliance and vCenter Site Recovery Manager, and consolidation of mid-tier storage vendors is proceeding apace thanks to transactions like HDS buying BlueArc. But neither trend has stopped a new crop of storage startups trying to bring new approaches to the industry. And at VMworld 2011 they did so under the nose of VMware and the storage giants.

Download this free guide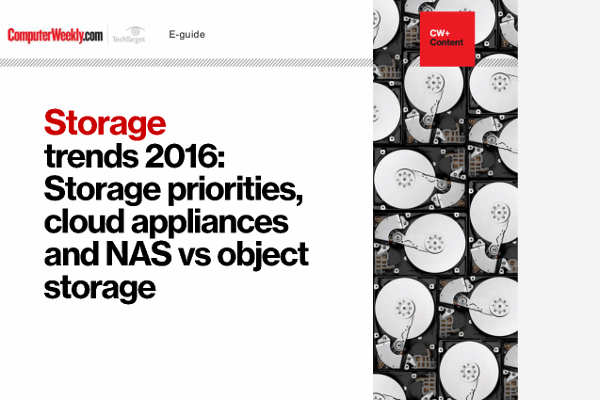 Storage trends 2016: Storage priorities, cloud appliances and NAS vs object storage
Our guide to the latest shifts in the Storage to-do list for IT departments, cloud appliance providers, and what to do with large volumes of unstructured data
By submitting your email address, you agree to receive emails regarding relevant topic offers from TechTarget and its partners. You can withdraw your consent at any time. Contact TechTarget at 275 Grove Street, Newton, MA.
You also agree that your personal information may be transferred and processed in the United States, and that you have read and agree to the Terms of Use and the Privacy Policy.

One startup that turned heads was Pure Storage, which billed itself as all-SSD arrays, but cheaper than spinning disk. The claim is qualified by the fact that PureStorage's 'Purity Operating Environment' deduplicates almost any byte that ever passes through the array, so the claim for lower cost than spinning disk is really saying that the working capacity of a Pure Storage device is cheaper per gigabyte than the same volume of un-optimised disk. That distinction made for a few frowns at the company's booth.
There were also some furrowed brows at the Samsung booth because – perhaps confusingly – Pure Storage was there too. The reason for the twin presence was the Korean giant's investment in the startup, whose arrays turn out to be packed full of Samsung SSD. That makes things rather interesting!
Another new solid state player is Whiptail, which distinguishes itself through its use of multi-level cell (MLC) memory. MLC is often associated with cheaper solid state memory, as it is a little less efficient than the rival NOR technology that finds its way into RAM. Whiptail says it has found a way to speed up MLC so it rivals other types of SSD and also says it has found a way to extend its life with clever wear-levelling algorithms.
Another startup that made a splash was Nutanix, whose devices combine server and storage in one 2U machine. The company has borrowed some Salesforce.com marketing ideas and is intent on having you Dump Your SAN, complete with a crossed-out red circle. Colleague Brian Madden gave the company best of show for desktop virtualisation, so head over there to read the details.
Lastly, a company called Tintri caught our eye with an appliance designed to support virtual servers. The VMstore T445 offers 8.5TB of disk, blending SSD and spinning disk, and is tuned to run virtual machines awfully fast without some of the usual SAN/server bottlenecks. The company also promises very simple administration.
If that's not enough storage innovation for you, SearchStorage USA's Dave Raffo has a list of ten storage startups, although a few may be familiar names.