BlackBerry coming to Windows Mobile
BlackBerry features will soon be available on Windows Mobile devices in a software application suite that offers BlackBerry email, messaging, calendar and other applications.
BlackBerry maker Research In Motion Ltd. ( RIM) this week released a software suite that allows mobile devices running Windows Mobile 6 to become virtual BlackBerrys and use applications that made BlackBerry a mobility gold standard.

The virtual BlackBerry solution lets devices from third-party manufacturers use widely popular BlackBerry software applications and services. The suite, which will be available later this year, has been slated to run on select Windows Mobile 6-based devices.

Download this free guide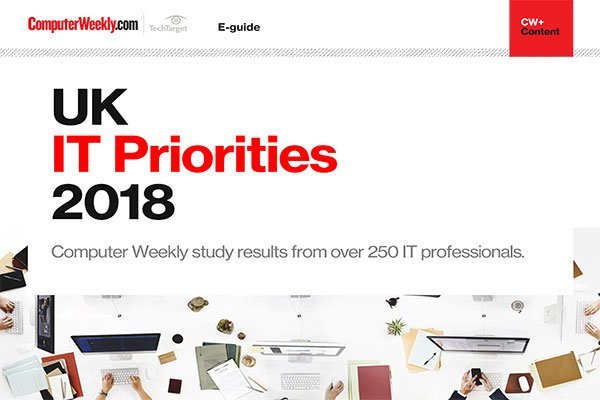 UK IT Priorities 2018 survey results
Download this e-guide to discover the results of our 2018 UK IT Priorities survey, where IT leaders shared with us what they are going to be investing in over the coming 12 months.

By submitting your personal information, you agree that TechTarget and its partners may contact you regarding relevant content, products and special offers.

You also agree that your personal information may be transferred and processed in the United States, and that you have read and agree to the Terms of Use and the Privacy Policy.

Once the suite is installed on the device, users will be able to access BlackBerry applications that include email, phone, calendar, address book, tasks, memos, browser, instant messaging and other applications once exclusive to the BlackBerry platform. Devices running the software will also be able to connect to BlackBerry services via BlackBerry Enterprise Server (BES) and BlackBerry Internet Service.

RIM president and co-CEO Mike Lazaridis said the software brings BlackBerry functionality to the masses and plays into RIM's idea of shaking the stigma of being a mostly proprietary platform.

"Extending BlackBerry applications to a broader range of devices is an important element of RIM's strategy to provide an open platform that supports industry standards and addresses the various needs of our customers and partners," Lazaridis said in a statement.

While in use, the BlackBerry software will appear as an icon on the screen of the Windows device. Clicking the icon opens and loads the suite of BlackBerry applications, and it will feature a user interface strikingly similar to a BlackBerry smartphone. The existing Windows Mobile applications running on the device are preserved, allowing the user to switch between Windows and BlackBerry applications.

As well as allowing the use of BlackBerry applications, the software suite enables BlackBerry push technology, meaning that messages and information updates can be delivered to the Windows device running the software. Also, the software supports BlackBerry Mobile Data System (MDS), which lets organizations develop their own BlackBerry applications or deploy third-party BlackBerry applications that can run on both Windows Mobile and BlackBerry smartphones.

The software also features support on BES, which integrates with Microsoft Exchange, IBM Lotus Domino or Novell GroupWise for push-based wireless access to email and other corporate data and over-the-air IT policy enforcement.

"It's about time," said Daniel Taylor, managing director of the Mobile Enterprise Alliance. "Because most of RIM's profit is tied up in BlackBerry devices, I can't say what this announcement will mean for RIM's gross margins, but I'm sure that there's a recurring revenue piece in the support for Windows Mobile devise. Unlike RIM's BlackBerry Connect licensing model, this new approach promises to meet a far larger number of devices on terms satisfactory to the enterprise, and it ensures that RIM will remain relevant as the mobile enterprise evolves from email only to a full suite of corporate applications."

Current Analysis analyst Avi Greengart agreed with Taylor, noting that the offering will not only serve to give RIM longevity but will also give the company a software-based revenue source.

"RIM has long looked to diversify its revenue away from an over-reliance on hardware – currently 70% of total revenue -- and this offering fits nicely into that strategic view," Greengart said. "The goal is not just to move a significant portion of RIM's revenue from relatively lower-margin hardware to higher-margin software, but also to ensure that RIM doesn't lose out based on hardware and software factors in the industry that it cannot control."

Greengart continued: "By allowing RIM's middleware and email services to connect to non-RIM devices, RIM can maintain its position in mobile email and continue to generate high-margin revenue even if someone like HTC or Samsung creates a must-have device, or if someone creates a killer app that only runs on Windows Mobile or Symbian S60."

Jack Gold, president and founder of J.Gold Associates, a Northborough, Mass.-based mobile research and advisory firm, said bringing BlackBerry online with Windows Mobile is RIM's way of adapting to the allure of cool and hip devices, many of which run the Windows Mobile operating system.

"A lot more organizations are going out and buying the coolest devices," Gold said. "If I already have the BES, you can just include it. [BlackBerry is] not going to be able to sell a Pearl or 8800 to everyone."

The drawback Gold sees at this point is that the software is available only for Windows Mobile 6, which has not yet been made available on devices. It appears that many devices running Windows Mobile 5 may not be upgradeable to the latest version of the operating system when it's released, he said, though Palm is working on a way to upgrade its Windows-based Treos.

"This is significant in that it's RIM saying, 'We're going to have to support a lot of different devices,'" Gold said. "But I doubt Microsoft is particularly happy about it."

Greengart said, however, that Microsoft should have few qualms about BlackBerry being able to run on its Windows Mobile devices.

"Microsoft should be pretty happy about this as well -- anything that makes their mobile OS more flexible and capable should help to increase adoption," he said. "Microsoft could even build a migration strategy around the new software, using it to support BlackBerry users today, and then once a company has a critical mass of Windows Mobile devices, they could move to an all-Microsoft infrastructure on the back end."

Greengart added that Microsoft could reap the benefits of being able to run virtual BlackBerry on its mobile operating system.

"But the boost to the Windows Mobile ecosystem could be significant -- Microsoft doesn't need to own the whole value chain to succeed," he said. "Microsoft Exchange has plenty of momentum for corporate messaging without considering mobility, and, indeed, Microsoft doesn't even charge for push email, so it stands to lose no money if companies use RIM's BES Middleware to connect to Windows Mobile devices instead."

Other RIM competitors, such as Nokia, are not excited about the offering, however. In a statement issued this week, Nokia said its Intellisync Mobile Suite 8.0 gives enterprises and operators reliable, secure and flexible access to mobile data and applications through wireless email and other unified communications tools.

Nokia pointed out that its solutions, unlike RIM's, don't require a Network Operating Center (NOC) to deliver email from a company's messaging system to its employees' devices, though a NOC-based solution is available. The Intellisync suite also supports more than 100 Nokia and non-Nokia devices on Windows Mobile, Palm, Symbian and BlackBerry platforms.

Lior Nir, director of product marketing for the Mobility Solutions division of Nokia Enterprise Solutions, said that allowing companies to leverage mobile applications across various devices and operating systems has become a necessity as companies seek to drive down mobility costs while also boosting user productivity. In addition, he said, the proliferation of end users bringing varying devices into the enterprise, or enterprises offering device menus, means that companies have to be able to support them while also offering similar functionality on each.

"It's the same look and feel whether it's a Nokia or non-Nokia device," Nir said. "We can provide to a whole breadth of capabilities now and companies can use the existing devices they have today."
Read more on Operating systems software