HP serves up new storage
HP launched several storage hardware products at its StorageWorks show, but most of them either won't be available or won't have key features until later this year.
This Article Covers
RELATED TOPICS
At this year's HP Americas StorageWorks Conference (ASC), the computer giant has made a series of product announcements
.
HP announced four new products: the EVA x 100 family (consisting of the EVA 4100, 6100 and 8100 models); a new DAT tape drive, an LTO-4 tape drive and a tape backup blade.

Download this free guide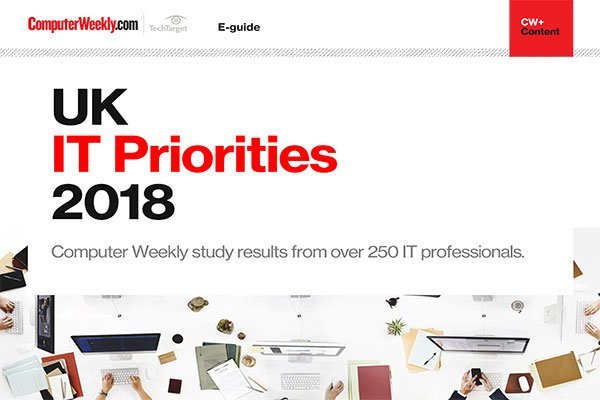 UK IT Priorities 2018 survey results
Download this e-guide to discover the results of our 2018 UK IT Priorities survey, where IT leaders shared with us what they are going to be investing in over the coming 12 months.

By submitting your personal information, you agree that TechTarget and its partners may contact you regarding relevant content, products and special offers.

You also agree that your personal information may be transferred and processed in the United States, and that you have read and agree to the Terms of Use and the Privacy Policy.

One feature of the new EVA that will ship with the first generally available product this week is fault isolation capabilities down to the disc level, rather than the disc shelf. This means that when a single drive fails, the EVA will not have to take down an entire shelf, improving performance during rebuilds, the company claimed.

However, two of the key features being touted with the new EVA family won't be available until the Windows Server 2008 (aka Longhorn) release later this year. The first is support for Server 2008's Virtual Disc Service (VDS), which allows for the growth and shrinking of volumes according to application demand. The second is a similar feature within the EVA array, which is being called Dynamic Capacity Management (DCM) -- essentially, HP's side of the VDS equation.

According to Kyle Fitze, director of marketing, storage area network (SAN) division, HP StorageWorks, the ability to dynamically grow volumes without rebooting the array will be available before the ability to shrink them. As for when that will be -- "sometime before" Longhorn's release; Fitze declined to be more specific.

Other features HP was touting with the EVA array turned out on further inspection to either have catches in the fine print or not really to be new. For example, the addition of 4 Gbps Fibre Channel connections; these have been added, according to Fitze, between server and storage, as well as within the controller, but not in the connections between controller and disc; meaning that 2 Gbps is still as fast as the system can extract data from discs. The system also has about a 24% performance improvement due to new processors in the controller.

"We plan to check [the 4 Gbps] box in the next generation product," Fitze said, arguing that most customers won't fill up the pipe.

Another feature HP was pushing in its press conference was the ability to create writeable snapshots, saving only changed data rather than creating full clones, a capability analysts were quick to point out HP has had available for years.

"They've done a poor job of getting the message out about it and educating the market, or maybe they've been waiting for extensive field tests to validate its use," said Tony Asaro, analyst with the Enterprise Strategy Group (ESG).

"I don't know that I could confirm that it's been around for years, but has it been in existence before? Yes," said Duncan Campbell, vice president of worldwide marketing for HP StorageWorks.

More fine print: LTO-4 drive and tape blade

While several of HP's competitors are already shipping LTO-4 drives, HP's newly announced drive won't ship until August. According to Ash Ashutosh, vice president and chief technologist, StorageWorks division, this is because the key management application is still being developed. "We need to make it enterprise wide, not device specific," he said. "Shipping key management with only the tape drive would be useless."

The products that are shipping in full are a new DAT 160 drive, as well as the HP Ultrium 448c Tape Blade, a new half-height tape storage blade that provides data protection for HP BladeSystem c-Class servers and the SB40c storage blade. According to Ashutosh, both the SB40c and the 448c are direct attached storage (DAS) devices for the BladeSystem chassis. A networked storage blade device is expected to be released in the fall time frame.

The tape blade is two generations behind the most current Linear Tape-Open (LTO) format, with support for LTO-2 drives only. According to Bob Wilson, vice president of nearline storage for HP, this is because HP "wanted to align the capacity point with what's typical in the blade chassis, which is usually the boot drive in the server and also achieve the most competitive price point." (The suggested list price for the blade is $1,999.)

What about software?

Meanwhile, there was no sign of a rumored blade that would add continuous data protection software from FilesX Inc. Or some of the updates that were discussed last year, including block-level data deduplication for the RISS archive platform. The HP story around that particular feature, slated for release last September according to briefings at last year's StorageWorks event, is that the RISS storage cells have the dedupe capability within them, but the Research in Motion (RIM) software management modules haven't been updated yet, precisely the same story as last year.

RIM for Files, which was supposed to be the first module for dedupe with RISS, was delayed "for inventory reasons," according to Patrick Eitenbichler, director of marketing for HP's StorageWorks division. However, he said, the release is coming "just around the corner".

Industry reaction

"I think there's an internal argument going on," said Howard Jares, a systems administrator for a large university in Texas who asked that it not be named. "I think they're trying to position themselves in every area of IT, but it's hard to be everything to everyone."

"I haven't seen a lot of functionality changes, though I have seen a lot of improvements in stability and performance," said Storage Essentials user Jeff Machols, systems integration manager for CitiStreet. "It's been slow."

According to ESG's Asaro, "HP does a great job in setting up a strong story. They talked to us about grid way back when, now it's all about 'blade everything,' but we haven't seen excellence when it comes to execution. They have all the ingredients, but they don't have a cake."

HP officials pointed to the acquisition of PolyServe Inc.'s file services software, the new low-end virtual tape library (VTL) released in February and the All-in-One box as signs the HP storage software business is still going strong. "Customers want to hear what's coming, but the way we've described our long-term strategy over the years has changed because customer needs have changed," Fitze said.

So how can customers be sure the new software features for the EVA, for example, will really appear? "We're already far too committed to delivering DCM, we're heavily involved with Microsoft, and there's too much at stake not to deliver on this one," Fitze said.
Read more on Networking hardware