BPM is the next 'killer application', says Gartner
Businesses will spend $1bn on business process management (BPM) tools worldwide this year, as they attempt to gain a competitive edge, according to analyst firm Gartner.
Businesses will spend more than £500m ($1bn) on business process management (BPM) tools worldwide this year, as they attempt to gain a competitive edge, according to analyst firm Gartner.

Download this free guide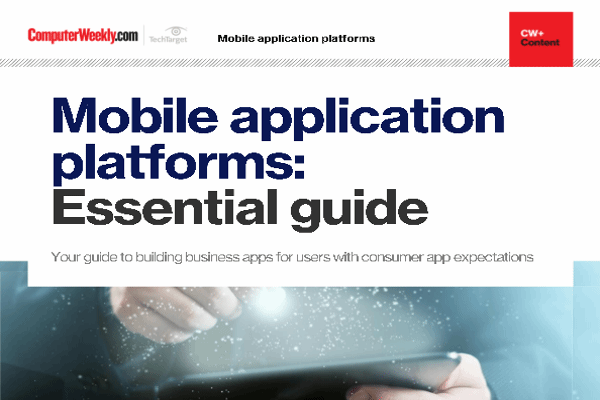 Building business apps for users with consumer app expectations
One of the mantras of modern enterprise application development is that business applications should be as easy to use as mass market consumer applications. In this guide, Computer Weekly examines the issues around mobile applications and the platforms emerging to help developers.
By submitting your personal information, you agree that TechTarget and its partners may contact you regarding relevant content, products and special offers.
You also agree that your personal information may be transferred and processed in the United States, and that you have read and agree to the Terms of Use and the Privacy Policy.
Listen to the experts' viewpoint on the subject in Cliff Saran's latest podcast
Janelle Hill, research vice-president at Gartner, said, "The competency of a business to change its processes more frequently will be the main differentiator between one company and another. BPM will be the next killer application of IT."
IT directors will have a key role to play in this drive for efficiency. Research from Gartner suggests that IT directors will take more responsibility for business processes over the next five years with a growing number of products available to automate business processes and improve operational efficiency.
BPM tools are designed to automate business processes using workflow. Significantly, Gartner has not identified any of the major software providers doing much work in the BPM space.
Hill said, "It is not quite a mainstream market. There are more than 170 suppliers and the leaders are not household names."
While IT directors needed to think strategically about process improvement Hill recommended they take a tactical approach. "Start with a strategic design of the process to improve, assess development skills then pick one of the best of breed providers, but recognise the supplier may be acquired or may merge.
Although process management has previously been very popular during a downturn, Hill said, "We think business conditions have funadmentally changed due to globalisation and the internet, leading to the commoditisation of products."
This pressure is sustained and is leading many organisations to look inwards at operational efficiency and process management, she said.
One user of BPM technology is mobile operator Orange, which has been using the technology to help it keep pace with the fast-paced world of mobile communications.
Paul Tuffs, a programme office manager at Orange said, "BPM frees people up to think creatively and gives them a structure so they can see what is going on and who is responsible and accoutnable for different parts of a business process."

Related article: Buying BPM in a service oriented world

Comment on this article: computer.weekly@rbi.co.uk
For expert views listen to the latest podcast
Read more on Business applications