High-end storage array purchase considerations
Specific considerations for high-end disk array systems and a series of specifications to help make on-the-spot product comparisons between vendors.
This Article Covers
RELATED TOPICS
When it comes to high-end disk arrays, organizations are really focusing on sheer capacity and performance -- storing vast quantities of data at the very highest service levels over a long-term deployment. Depending on the disk types and capacities used, high-end arrays may start around 500 disks with 100 TB of capacity, and spiral upwards to 2,400 disk behemouths with over 1,000 TB (1 PB) of space. However, capacity and disk count are not the only characteristics of a high-end array. Large arrays typically support high-end features that enhance usability such as snapshots, replication, tiered storage, and so on. High-end disk storage systems also demand a much greater share of the data center's facility infrastructure, so high-end array deployment is often preceded by infrastructure improvements in power, cooling and physical space. Once deployed, the high-end disk array usually requires significant management with the support of one or more storage administrators.

An enterprise can generally meet the challenges posed by large storage systems, but the actual choice of product demands careful consideration. Now that you've reviewed the essential issues involved in any SAN upgrade, this Buying Guide focuses on specific considerations for high-end disk array systems. You'll also find a series of specifications to help make on-the-spot product comparisons between vendors, including 3PARdata Inc., EMC Corp., Hewlett-Packard Co. and IBM.

Download this free guide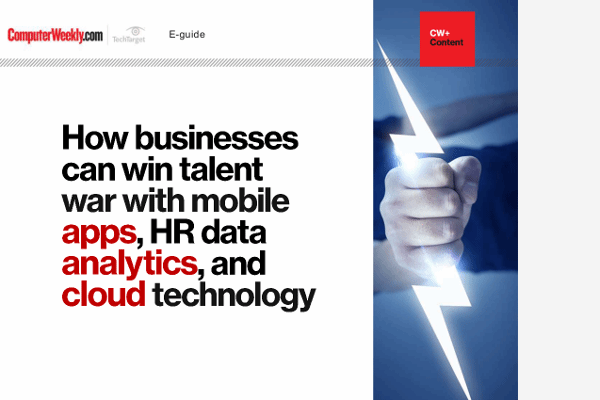 How businesses can win talent war with mobile apps, HR data analytics and cloud technology
Latest articles on HR best practices: mobile apps disrupting the annual staff appraisals; reasons for and against open-source software; and Rolls-Royce case study.
By submitting your email address, you agree to receive emails regarding relevant topic offers from TechTarget and its partners. You can withdraw your consent at any time. Contact TechTarget at 275 Grove Street, Newton, MA.
You also agree that your personal information may be transferred and processed in the United States, and that you have read and agree to the Terms of Use and the Privacy Policy.

Consider the key attributes and features of the system. High-end arrays are typically purchased for capacity, performance and enterprise-class features. It's important to decide exactly what attributes and features are really crucial to the purchase, and then ensure that the new array meets or exceeds those requirements now and throughout the array's expected service lifetime. For example, if you predict 500 terabytes (TB) of storage in your data center over the next few years, consider a storage array that will exceed that demand. Also, look for the availability of enterprise-class features, like snapshots, local or remote replication, single-instance storage (a.k.a. data deduplication) and virtualization.
Evaluate the impact on data center facilities. Enterprise data centers are often challenged to meet the demands for power, cooling and air-conditioning. Adding a new high-end storage array to the data center can sometimes strain limited facilities, so it's vital to weigh the needs of a new array against the available capacity of current facilities. These demands may be mitigated somewhat if older storage systems are being retired or redeployed elsewhere. However, be sure to consider the needs of the new array in its fully- oaded state. For example, an array with 250 drives may not be a terrible strain on power, but the same array fully expanded to 1,250 drives will demand far more power and cooling resources.
Embrace tiered storage in the box. An increasing number of storage arrays can support multiple storage tiers within the same system. This allows Fibre Channel drives for top storage performance, SAS drives for a good mix of capacity and performance, and SATA drives for nearline storage with high storage capacity. This strategy can often reduce your overall storage investment by matching the cost of storage to the value of the data. It can also help to consolidate multiple storage array systems into a single platform to lower capital investment, ease management demands and reduce ongoing service expenses. Eliminating multiple storage systems may also help to alleviate the demands on power, cooling and physical space as you saw above.
Evaluate service level agreements. Administrators typically rely on storage systems to meet minimum levels of service for users and applications. When selecting a new storage array, it's important to ensure that current service level agreements (SLA) can be met or exceeded. If the new array supports multiple storage tiers, it will be possible to accommodate a variety of service levels for both critical and noncritical users.
Evaluate the costs closely. Vendors often tend to aggregate a multitude of tasks into just a few nebulous line items on a quote. Industry experts suggest that you take the time to get a detailed cost breakdown of the components and service items before the purchase, see exactly what each task involves and determine if each task is reasonable. For example, if a vendor is allowing an excessive number of hours for a firmware upgrade, this may be a cost area to trim. Understanding what the vendor is really charging you for can be an effective way to trim excess costs and negotiate the best acquisition price. When evaluating total cost of ownership (TCO), always consider the expense of additional/optional software, additional components, accessories and the ongoing maintenance and software licensing costs.
Consider impacts on the backup/disaster recovery process. Changing storage platforms in the data center will inevitably alter the backup and disaster recovery process. In many cases, the addition of a high-end storage array can significantly increase the backup window and replication time. Administrators may not be able to perform complete backups in a timely manner, and may need to focus backup efforts on mission-critical data. Alternatively, it may be necessary to implement a faster tape library or disk-based backup system, such as virtual tape, in order to accommodate the added storage capacity.
Consider the process and impact of data migration. It's not enough to simply buy, install and configure a storage array -- the data from existing storage systems must be migrated to the new storage array. The process of data migration is often problematic, and unforeseen issues can easily disrupt mission-critical applications and users. When considering a high-end array acquisition, take the time to sit with a vendor and discuss migration strategies before the purchase. Understand the process and problems involved. Develop a migration plan that the vendor is willing to assist you with.
The high-end storage array specifications page in this chapter covers the following products:
3PARdata Inc.; InServ S400 Storage Server

3PARdata Inc.; InServ S800 Storage Server

EMC Corp; Symmetrix DMX-3

Hewlett-Packard Co.; StorageWorks XP10000 Disk Array

Hewlett-Packard Co.; StorageWorks XP12000 Disk Array

Hitachi Data Systems; TagmaStore AMS1000

Hitachi Data Systems; TagmaStore USP1100

IBM; DS8000

Sun Microsystems Inc.; StorageTek 9985 System

Sun Microsystems Inc.; StorageTek 9990 System