Weekly compilation of storage news:IBM delays shipment of Global Mirror
IBM's asynchronous replication feature for SVC, originally slated for release this month, has been delayed until November.
This Article Covers
RELATED TOPICS
IBM delays shipment of Global Mirror
The ship date for IBM's Global Mirror product, an asynchronous replication feature announced as part of SVC 4.1 on May 26, will be delayed two months, IBM said. A limited version of SVC 4.1 was available to customers as early as June 23, but the shipment of the full version was laid out for Sept. 8 specifically in order to fully develop the Global Mirror feature.

Download this free guide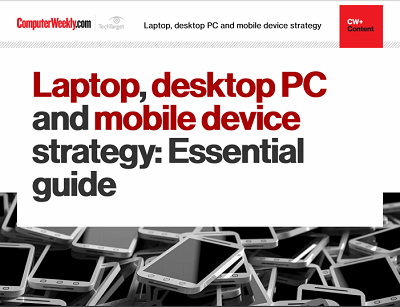 The great debate - to PC or not to PC
IT leaders have greater choice in end-user devices than ever before. The age of PC-only users is over and we have entered the multiple device era. In this guide, you can find best practice, analysis of the latest trends, and expert advice on formulating enterprise strategy in laptops, desktop PCs and mobile devices.

By submitting your personal information, you agree that TechTarget and its partners may contact you regarding relevant content, products and special offers.

You also agree that your personal information may be transferred and processed in the United States, and that you have read and agree to the Terms of Use and the Privacy Policy.

Global Mirror is based on IBM's Metro Mirror product, which has been available since 2003. An IBM spokesperson told SearchStorage that Global Mirror has been held up due to "changes within the SVC development team."

EMC to supply IDF, adds security to Documentum
EMC has won a three-year Israel Defense Forces (IDF) contract for storage systems. The contract, reportedly worth $30 million, is considered the largest storage systems contract in Israel. The IDF has reportedly been making an intense effort to expand its computer capacity for better disaster recovery planning, spurred by Israel's recent war with Lebanon.

Meanwhile, continuing its plan to integrate storage and data management products with security, EMC introduced EMC Documentum Information Rights Management (IRM) Services and EMC Documentum Records Manager 5.3. The new offerings control, secure and track records, and also dispose of all copies of that information according to data deletion policies, in all locations including employees' personal computers and laptops. The new product is based on information rights management software from the acquisition of Authentica Inc., for an undisclosed amount on May 9.

Powerfile aims to move DVD archives upmarket
PowerFile announced the introduction of its Active Archive Appliance (A3), a DVD jukebox with up to 30.6 terabyte (TB) capacity. Powerfile has traditionally played at the low-end of the market, but according to Jonathan Buckley, VP of marketing for Powerfile, the new box is designed with the enterprise in mind; the boxes will scale up to 100 TB within a year and could go up to 1 petabyte (PB) in two years, Buckley said. New enterprise features in the A3 also include a cache that will keep 10% of the most accessed information in cache, and will allow users to add capacity while the box remains online. The system also virtualises the DVDs within the jukebox the way an enterprise array virtualises individual disk platters, Buckley said.

Powerfile admits that optical storage in the enterprise has largely "utterly failed," Buckley said. "But with this box, no one but the admin would even know that DVD is in the subsystem," and DVD still has benefits like the ability to do WORM storage inexpensively.

Isilon files for IPO, signs new OEM
NAS clustering startup Isilon Systems made initial filings Sept. 1, and hope to raise $86.2 million in an initial public stock offering (IPO). The company has applied to be known under the symbol "ISLN" on the Nasdaq stock market. Isilon said it would use the money to repay at least $6.2 million in debt and for general purposes, which might include acquisitions.

Meanwhile, Isilon announced that Harris Corporation will link the Isilon IQ clustered storage system with the Harris NEXIO video server platform into a co-branded product aimed at TV broadcasters.

Smarsh announces 500 email archiving customers
Smarsh Inc. a managed service provider for email archiving and messaging compliance in the financial industry, announced that more than 500 broker dealers, investment advisors, hedge funds and other financial firms have chosen its service for managing messaging systems since the company was founded five years ago.

Quantum introduces Superloader 3A
Quantum Corp. announced the new SuperLoader 3A autoloader and the availability of the SDLT 600A professional video drive in Europe. The products are designed to store professional video data . The SDLT 600A is available now in North America and Europe and the SuperLoader 3A is scheduled to be available in North America and Europe at the end of September through Quantum's resellers that target the broadcast and professional video market. The MSRP for the SDLT 600A tabletop unit is $7,950; the rackmount unit is priced at $8,550; and the SuperLoader 3A autoloader sells for $12,000.

Solix announces security, subsetting modules
Solix Technologies, maker of the ARCHIVEjinni archiving product, announced two new modules, one for security and one for data subsetting. The Solix Archivejinni MiniME subsetting module facilitiates the creation of subsets of production databases within the archive; the Data Security module uses metadata to control access to information in subsets and in archived instances of a database.

In a separate announcement, Solix also introduced Archivejinni for Oracle Process Manufacturing (OPM). OPM automates the entire production cycle for process-based manufacturing and is used by companies who manufacture metals, pharmaceuticals, chemicals, paint, food and beverages. Archivejinni for OPM follows policies set by OPM applications, such security controls around secret recipes and formulations while also making them available to authorised admins via a keyword search.

HDS, Brocade qualify with zSeries
Hitachi Data Systems (HDS) announced that interoperability testing of Hitachi storage supporting IBM Geographically Dispersed Parallel Sysplex (GDPS) mainframe products (part of the IBM zSeries) is complete. The companies extended and enhanced their interoperability testing agreement in May 2005. Brocade also announced that its 4 Gbit/sec SilkWorm products have been qualified for use in IBM zSeries environments.

Avamar announces remote-office backup
Avamar Technologies, Inc. announced a new version of its product designed for protecting remote office data, which includes data deduplication and compression of data that will be sent over a wide area network (WAN). Companies using Avamar software to protect their remote office data include Adaptec and the Virginia DMV, according to an Avamar press release.