Network news in brief
Short takes on the week's network news
Short takes from this week's network news
Windows support costs reduced with Capgemini
A service from Capgemini could help UK businesses to reduce the cost of supporting Windows Mobile 2003 and Windows Mobile 5-based mobile devices. Capgemini Mobile Support uses a set of Microsoft .net tools which automates many manual support processes, such as virus protection and user access.

Download this free guide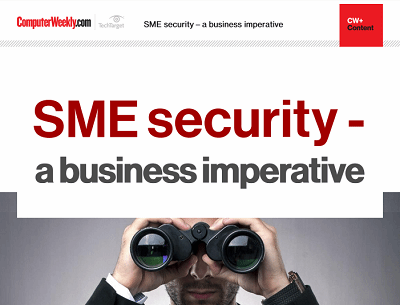 The secret to winning - SMEs and cyber security
50% of SMEs plan to spend less than £1000 on cyber defenses in the next year and only 42% of SMEs are concerned about ransomware. Anyone see a problem? Computer Weekly outlines some solutions to this growing naive trend.
By submitting your personal information, you agree that TechTarget and its partners may contact you regarding relevant content, products and special offers.
You also agree that your personal information may be transferred and processed in the United States, and that you have read and agree to the Terms of Use and the Privacy Policy.
10gbps storage networks failing to win support
A poll of senior IT managers has shown 68% do not see a business case for 10gbps Fibre Channel storage networks. In addition, 64% of businesses have no plans to implement them. The study by market researcher Vanson Bourne also found that 25% of respondents were wary of the risks involved in adopting an unproven technology.
Intelliden tools aimed at easier network updates
New network automation tools from Intelliden are being aimed at organisations that need to make controlled network updates over large networks, including service providers, large enterprises and large government organisations. Version 4.4 of Intelliden's R-Series network automation product has enhanced automation and network inventory capabilities.
BT offers new plan for mobile-heavy users
Forty percent of UK businesses' total call spend is on mobile phones, according to anlaysts Yankee Group. To capitalise on this, BT is offering businesses new fixed and mobile call packages. BT Business Plan with mobile offers SMEs one bill, an annual 5% discount on combined fixed and mobile calls, and preferential rates.
Exhibition showcases mobile office technology
At the VoIP for Business exhibition in London last week, Azzurri Communications demonstrated technology from Avaya and Nokia that enables staff to turn their mobile phones into virtual offices. Features include e-mail, voice conference, call transfer and call holding.
Read more on IT for small and medium-sized enterprises (SME)