Arun Taneja: Blogs and more
Monthly blogs by Arun Taneja, as well as other material by this storage expert.
Arun Taneja will contribute a monthly blog, as well as a number of webcasts, to searchStorage.com. Taneja is also featured as one of our "Ask the Experts" writers. Here's his most recent blog entry:

Download this free guide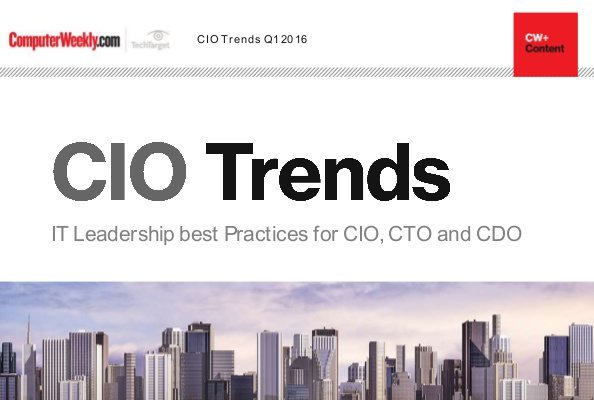 Your exclusive guide to CIO trends
A collection of our most popular articles for IT leaders from the first few months of 2016, including: - Corporate giants recruit digitally-minded outsiders to drive transformation - Analytics platforms to drive strategy in 2016 - Next generation: The changing role of IT leaders.
By submitting your email address, you agree to receive emails regarding relevant topic offers from TechTarget and its partners. You can withdraw your consent at any time. Contact TechTarget at 275 Grove Street, Newton, MA.
You also agree that your personal information may be transferred and processed in the United States, and that you have read and agree to the Terms of Use and the Privacy Policy.


Blogs

NEW! Don't overlook Amanda for your storage data protection needs (31 July 2006)
Chances are, you have never heard of Amanda… in the sense of open source that is. And if you have not heard of Amanda, then chances are you have not heard of Zmanda either. I will explain both, and I will give you my view of why it is important for you to at least be aware of these products and their relation to data protection. Whether you should invest in either depends on many factors that will become clear shortly. More on storage protection needs >>
Remote offices: Keep them working well and keep them safe (19 June 2006)
Pretty much since the birth of computers, remote offices have been a pain in the butt for IT. Before the client/server style of computing became a standard, the mainframes did all the crunching at the datacentre and presented the results on a terminal. If that terminal happened to be in the HQ, one got a response in a reasonable amount of time. If one happened to be far away, then you got what you got. More on remote offices >>
How do you keep 20 pounds of data in a one-pound storage box? (24 April 2006)
Incoming data rates -- already creating havoc inside IT shops and making mockery out of their budgets -- are only getting worse. Most IT folks I talk to are seeing data almost double every year, with unstructured and semi-structured data in the lead. Granted, the cost per megabyte of primary storage has been falling precipitously, thanks in part to the existence of SATA drives, and this is certainly holding the cost increases in check. But the costs of storage management, which are proportional to the amount of data being managed, are still out of control. More on data in a storage box >>
It's time for change: Show us the data! (13 March 2006)
Vendors use the SPEC benchmark for demonstrating the performance of their NAS boxes, but play around with the numbers in order to make them look better. Arun Taneja suggests that these vendors instead associate a list price for this configuration, allowing the users to compute a price/performance ratio.
Get ready for universal grid storage (10 Feb 2006).
Storage analyst Arun Taneja discusses the storage industry's move towards grid storage, and the benefits it can deliver to IT.
Storage in 2006: Small steps and big leaps (hopefully) (13 Jan 2006)
Can 2006 bring bigger and better things for storage than 2005? Storage analyst Arun Taneja shares his thoughts on what's to happen in the world of storage, storage vendors and their products this year.
Knowing the myths of iSCSI (29 Nov 2005)
The myth of iSCSI is that it is inherently easy to use, simply because it is based on TCP/IP. The reality, however, is that all the iSCSI offerings from legacy vendors are easy to use (or not) as their FC counterparts.
Merger mania: How you can help the small storage companies (12 Oct 2005)
After a lull of almost four years, merger mania is returning to the storage industry and the valuations are getting heady.
Not all SATA is alike (09 Sep 2005)
People want to believe that all SATA is created equal, but this is a potentially risky misconception. Storage expert Arun Taneja outlines the minimum level of functionality you should look for in SATA-based systems.
Wake up, smell the disk, and discover CO technologies (28 Jun 2005)
While the world of IT has accepted the use of tape, it's time that they introduce themselves to the world of capacity optimisation (CO).
Use compliance as a technology driver (12 May 2005)
Compliance regulations are a great way to convince your higher-ups to invest in new technology. Finally, something to thank Enron for.

Also by Arun Taneja
Articles and webcasts
The scoop on FibreSpy: Emulex's FibreSpy technology allows storage companies to plug in more drives or connect other devices to the array, pushing the growth of modular storage.

Next Generation Backup and Recovery: Acting on the Future - Vendor Webcast: Disk-based backup promises much faster restores & backups. The Taneja Group, an analyst firm, confirms this shift in a new survey. Hear Arun Taneja discuss how data protection strategies will evolve and how IT leaders are responding.

Analyse that: Microsoft: Curious about what Microsoft has up its storage sleeve? Founder and consulting analyst Arun Taneja of the Taneja Group dissects Microsoft and tells us why other storage vendors should pay careful attention to what the folks in Redmond are up to.
About Arun Taneja:
Arun Taneja, Founder and Consulting Analyst of the Taneja Group in Hopkinton, Mass., writes columns and answers questions about data management and related topics.
Other searchStorage.com Blogsters
Interested in reading what our other blogsters have to say? These links will direct you the blog pages of our other contributors.
Tony Asaro
Steve Duplessie
Marc Staimer
Jerome M. Wendt
Jon William Toigo
Stephen Foskett
W. Curtis Preston

---
Read more on IT risk management