Charities urged to share information on IT spend
A typical large charity with turnover of more than £25m spends an average of £1,500 on IT per user per year, according to benchmarking figures from the Charity Consortium IT Directors Group.
A typical large charity with turnover of more than £25m spends an average of £1,500 on IT per user per year, according to benchmarking figures from the Charity Consortium IT Directors Group.

Download this free guide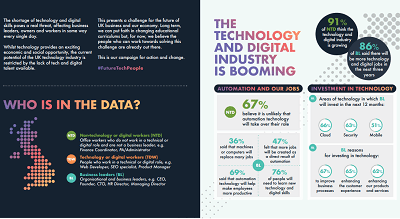 Infographic: Future-proofing UK technology
The shortage of technology and digital skills poses a real threat, affecting business leaders, owners and workers in some way every single day. Whilst technology provides an exciting economic and social opportunity, the current potential of the UK technology industry is restricted by the lack of tech and digital talent available. This presents a challenge for the future of UK business and our economy. Long term, we can put faith in changing educational curriculum but, for now, we believe the people who can work towards solving this challenge are already out there.
By submitting your personal information, you agree that TechTarget and its partners may contact you regarding relevant content, products and special offers.
You also agree that your personal information may be transferred and processed in the United States, and that you have read and agree to the Terms of Use and the Privacy Policy.
Speaking at the group's annual conference last month, chairman David Clayden said major charities spent 2% to 3% of their revenue on IT. About 65% of this went on support, and 35% on strategic activities.
On the IT helpdesk, typically 60% of calls were resolved within one day.
"These are typical ranges," said Clayden, urging IT directors to look beyond the figures and question their own charities' results.
"There may be good reasons for an individual charity's figures to fall outside these ranges, and it does not necessarily mean that you are doing it right if you are in the middle of the range," he said.
Urging similar-sized organisations to compare notes, he said, "It is extremely important to find a charity similar to your own to act as a point of detailed comparison to really drill down and understand the differences."
The Charity Consortium IT Directors Group Conference was a showcase for the spirit of co-operation among IT directors in the charities sector. The group's benchmarking activities involved 21 major charities in 2004.
The group has standardised the way it collects key performance indicator (KPI) data from participants. For benchmarking it uses agreed standard definitions, then reviews the information, discussing the reasons for divergences and differences in order to facilitate remedial action.
Financial KPIs include IT cost per user per annum, percentage of revenue spent on IT, and the percentage of IT cost outsourced.
Productivity KPIs include the ratio of support spend to strategic spend, the number of IT staff per 1,000 users, and the speed of resolution of helpdesk calls. The Charity Consortium IT Directors Group benchmarking activity also monitors IT training days per user.
At the conference keynote speaker Chris Tiernan, managing partner at the Grosvenor Consultancy, warned delegates that having IT projects on target, to specification and within budget said nothing about the benefits achieved.
Moreover, he added, "Business benefits alone say nothing about what they cost to achieve. And value alone says nothing about how worthwhile the investment is."
Tiernan stressed that IT had no intrinsic value, as it is only a tool to extend the capabilities of humans to handle data.
Value, he said, could only emerge from its use and all IT spend had to be on behalf of the business of the organisation.
What is the Charities Consortium IT Directors Group?
Founded in June 2000, the Charities Consortium IT Directors Group (CCITDG) has more than 80 members, who are all heads of IT for charities with annual turnover of more than £25m.
The group was a spin-off of the Charities Consortium Finance Directors Group, with an initial aim of seeking commercial benefit from informal meetings.
The CCITDG, which meets quarterly, has built a benchmarking activity among members and driven good deals from suppliers.
The CCITDG is a founder member of the Charity IT Resource Alliance, and a founder member of the Strategic Supplier Relationships Group.
An important feature of the CCITDG is sharing experience. There is a burgeoning benchmarking activity, where members benchmark themselves in terms of finance, quality, service, support, response and other measures, both with each other and externally.
Disaster recovery is also an important self-help service activity, and members offer each other their facilities in case of disaster.
The current chairman is David Clayden, IT director of the Salvation Army.