Open source pushes deeper into the enterprise at LinuxWorld
The steady rise of Linux in the business market was underscored last week at the LinuxWorld conference in San Francisco
The steady rise of Linux in the business market was underscored last week at the LinuxWorld conference in San Francisco.

Some of the largest software suppliers announced a clutch of new products for the open source market, which is fast becoming a mainstream alternative to Microsoft and other proprietary software.

The main attraction for organisations, particularly in the public sector, is the lower cost of Linux and its reputation for reliability.

Nearly 70% of internet servers use the open source Apache software, according to research company Netcraft. In the European server market Linux has a 6% share, said analyst firm IDC.

Dan Kusnetsky, an analyst at IDC, predicted that the growth of Linux in business would continue. He said suppliers needed to offer users web-based applications, a reliable e-mail access system and greater security.

There is also potential demand among developers who may want to build Java-based applications and web services using Linux instead of Windows, providing this is cost-effective, he said.

Hewlett-Packard announced the release of the HP Compaq t5515 server - the first of the t5000 series to offer Linux .

HP said the server offers increased security because fewer hackers target Linux and there are fewer Linux viruses in the wild. As the server is designed to support thin-client applications, end-users cannot introduce new soft- ware or viruses to the network.

Red Hat, the biggest seller of Linux licences, launched an open source application server it said would work with other Java Enterprise Edition 2.0 application servers from IBM, BEA Systems and Oracle.

The Red Hat Application Server includes a web application server and support for messaging technology from Axis.

IBM Cloudscape

At Linuxworld, IBM announced it has donated its Cloudscape relational database to the Apache Software Foundation, which will manage it as an open source project. IBM acquired Cloudscape when it bought Informix in 2001.

Download this free guide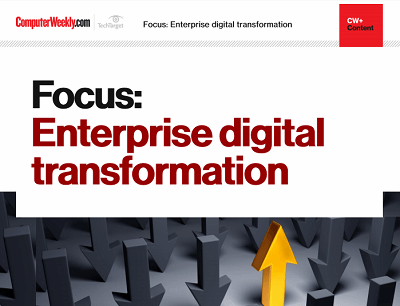 Are you digital to the transformation?
Digital transformation - the buzzword that we can't get away from. Enterprises need to accelerate their digital transformation journeys to avoid being left behind in an increasingly digital world. It's not an easy feat, but one that can be costly to get wrong. Join us as Computer Weekly takes a look at how businesses can stay on track through collaboration, innovation, and listening to user needs.
By submitting your personal information, you agree that TechTarget and its partners may contact you regarding relevant content, products and special offers.
You also agree that your personal information may be transferred and processed in the United States, and that you have read and agree to the Terms of Use and the Privacy Policy.
Read more on Operating systems software