Extra £800m to modernise criminal justice IT
The government is to provide £800m of additional funding for criminal justice IT systems.

Download this free guide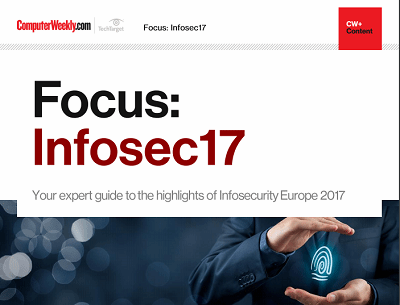 From forensic cyber to encryption: InfoSec17
Security technologist Bruce Schneier's insights and warnings around the regulation of IoT security and forensic cyber psychologist Mary Aiken's comments around the tensions between encryption and state security were the top highlights of the keynote presentations at Infosecurity Europe 2017 in London.

The government is to provide £800m of additional funding for criminal justice IT systems.

The extra funding comes on top of £1.2bn already committed to create integrated systems across the police, Crown Prosecution Service and the courts. The Probation Service and Prison Service have also been promised case management systems.

"All criminal justice staff will be able to communicate swiftly and efficiently through a single, linked IT infrastructure," the Home Office said in a strategy document published last week. "Electronic case management systems will have transformed case handling between the police and prosecution team, in the courts and in the management of offenders."

The Home Office also announced the National Offender Management Service, which will use electronic case management to assess the risks posed by offenders and share its findings with all those who need them. For example, when a prisoner is released on licence, the probation officer will have the information needed to supervise them properly. Also the police will be able to let probation officers know swiftly about breaches of community penalties.

The courts will have electronic access to the case information they need from the police, CPS and the National Offender Management Service. Court officers will have electronic links to the other key players in the court process, speeding up and simplifying, for example, liaison over hearing dates and case preparation, the government said.

New technologies being considered including the introduction of new offender tagging systems with satellite tracking.

Critics have often pointed to a lack of integrated IT across the UK's criminal justice agencies as a cause of inefficiencies in the criminal justice system.

A report by the Audit Commission in 2002 said inadequate IT was contributing to inefficiencies across the system. And Tony Blair has admitted that many of the UK's criminal justice IT systems were "still in the dark ages".
Read more on IT risk management