Sun puzzled by IBM open-source Java proposal
IBM's proposal to have the Java programming language offered under an open-source format is puzzling a Sun Microsystems official,...
IBM's proposal to have the Java programming language offered under an open-source format is puzzling a Sun Microsystems official, who stressed that the existing licensing programme ensures compatibility for the language.

Download this free guide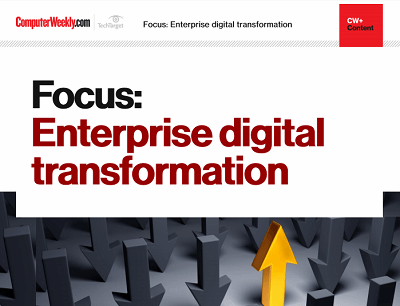 Are you digital to the transformation?
Digital transformation - the buzzword that we can't get away from. Enterprises need to accelerate their digital transformation journeys to avoid being left behind in an increasingly digital world. It's not an easy feat, but one that can be costly to get wrong. Join us as Computer Weekly takes a look at how businesses can stay on track through collaboration, innovation, and listening to user needs.
By submitting your personal information, you agree that TechTarget and its partners may contact you regarding relevant content, products and special offers.
You also agree that your personal information may be transferred and processed in the United States, and that you have read and agree to the Terms of Use and the Privacy Policy.
While IBM has maintained that Sun has too much control of Java under the Java Community Process, Java creator Sun remains steadfast in believing Sun is on the right track.
"We looked at the [IBM] request and our first question was, 'That seems a little bonky. Could you explain what [open sourcing of Java] means?'" said Sun's Jonathan Schwartz, executive vice president for software.
Last week, an open letter from IBM suggested Sun make Java available under an open-source format. But Schwartz said Java places compatibility as the most important imperative. He cited the open-source platform Linux as an example of a technology that has "forked" into different implementations, albeit only one that is important.
"In the server side, Linux has forked so that there's only one Linux distribution that matters in North America," with that distribution coming from Red Hat, Schwartz said. "The modus operandi of the Linux movement was to create choice.
"In the Java world, we had the opposite motivation, which was to ensure that compatibility ruled the day," he said, adding that allowing for differentiation in implementing Java technology also has been a goal.
Java source code is available for anyone to look at. "What you can't do is call it Java unless you have passed the Java compatibility tests that we and the Java community have invested so richly in," Schwartz said.
Sun employees administer the compatibility tests, but the company is open to having a third-party lab do the testing.
Schwartz said IBM is struggling for differentiation and that Sun has offered many technologies, such as Network File System and the OpenOffice office applications, under a General Public Licence, while IBM has not offered technologies under a GPL. IBM has a problem in that the main beneficiary of its Linux demand generation is Red Hat and not IBM.
Paul Krill writes for InfoWorld
Read more on Operating systems software