SCO alters claim in IBM case
The SCO Group has dropped its trade secret claims in its case against IBM and replaced them with copyright infringement...
The SCO Group has dropped its trade secret claims in its case against IBM and replaced them with copyright infringement claims.
"Our lawyers felt that copyright infringements had taken place, and that we had a strong case to provide evidence around that. The lawyers felt that was stronger than the trade secret violation claims," said Blake Stowell, SCO's corporate communications manager.

Download this free guide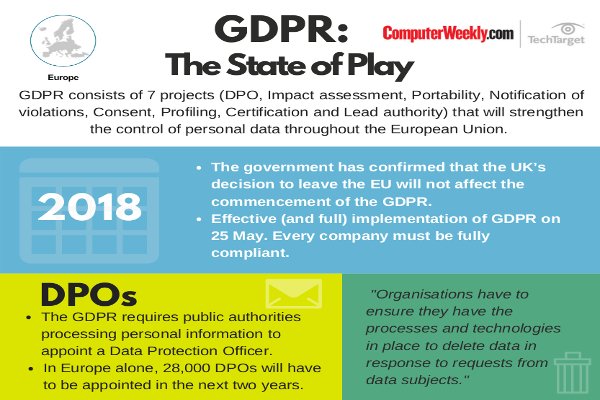 Infographic: GDPR - The State of Play
Get the latest information on how GDPR is going to affect your business and how to avoid any unwanted fines with this simple infographic.
By submitting your personal information, you agree that TechTarget and its partners may contact you regarding relevant content, products and special offers.
You also agree that your personal information may be transferred and processed in the United States, and that you have read and agree to the Terms of Use and the Privacy Policy.
"It came down to a focus on the largest claims," said Chris Sontag, senior vice-president and general manager of the SCO source division. "It's a complex case and we wanted to simplify things and focus on the largest elements."
This is the second amendment since SCO filed an initial suit in March 2003, claiming that IBM misappropriated trade secrets related to its Unix licence.
SCO licensed the Unix operating system to companies including IBM after it obtained rights to the licence in 1995. SCO first altered its case against IBM in June 2003, increasing the damages amount from $1bn to $3bn.
With the latest amendment, SCO's damage claims will rise to $5bn.
IBM claimed that SCO's amendments are meritless, did not oppose SCO's motion to amend.
The amendment is good news for the Linux community, because it shows that SCO had no evidence to back its claims that IBM had violated the company's trade secrets, said Bruce Perens, a noted Linux advocate and one of the founders of the Open Source Initiative.
Perens was sceptical that SCO would be able to win on any of its copyright claims, adding that despite repeated attempts, SCO had yet to prove that Linux violated any of SCO's copyrights.
"They can make a copyright infringement complaint, but they're going to be unable to prove it," said Perens.
SCO also announced it had signed a licence agreement with EV1Servers.net, the hosting division of Everyones Internet.
SCO will provide EV1Servers.net with a site licence which allows the use of SCO intellectual property in binary form on all Linux servers managed by EV1Servers.net in each of its hosting facilities.
Gillian Law and Robert McMillian write for IDG News Service
Read more on IT legislation and regulation