Barclays to sign Accenture outsourcing deal in first quarter of 2004
Barclays has confirmed it will sign a multimillion-pound deal to outsource its application development division to consulting...
Barclays has confirmed it will sign a multimillion-pound deal to outsource its application development division to consulting giant Accenture in the first quarter of next year.

Download this free guide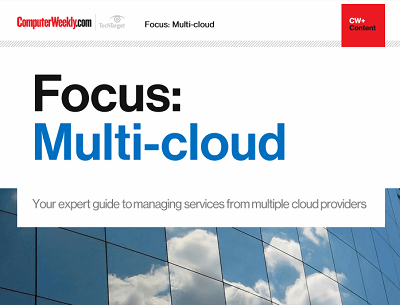 The maturity of the enterprise public cloud
Many IT leaders are increasingly coming round to the idea that sourcing services from one or more providers might be the best way to go. Join us as Computer Weekly takes a closer look at the multi-cloud approach and what providers are doing to capitalise on the trend.
By submitting your personal information, you agree that TechTarget and its partners may contact you regarding relevant content, products and special offers.
You also agree that your personal information may be transferred and processed in the United States, and that you have read and agree to the Terms of Use and the Privacy Policy.
The details of the contract, first revealed in Computer Weekly in October, are still to be ironed out but it is expected to be worth up to £75m a year. The deal would be one of the largest outsourcing contracts in the banking industry.
The application development division of Barclays' IT department, called Build Services, employs 2,000 people and is tasked with helping the bank to harness new technology.
Banking union Unifi, which represents two-thirds of Barclays' 9,000 IT staff, believes around 1,000 jobs will be outsourced to Accenture, with some jobs moving to India. A Barclays spokeswoman said no numbers had been confirmed yet, but added that there would be no compulsory redundancies.
Unifi is in discussions with Barclays to ensure that the bank's HR Framework Agreement, which includes assurances about redundancy and jobs moving offshore, will extend into the contracts being offered by Accenture under the terms of the deal.
Earlier this year, Barclays handed over the management of its 42,000 desktops to IT services giant EDS in a seven-year deal valued at £214m.
Toby Broome, chief operating officer for IT and operations at Barclays, said, "Our approach is for selective outsourcing. We do not dogmatically outsource."
A growing number of companies are choosing to outsource their IT systems to a range of specialist suppliers rather than relying on a single supplier.
"With the size of outsourcing deals now, no single supplier can do everything," said Anthony Miller, research director at analyst firm Ovum Holway. "The trend towards multi-[supplier] outsourcing is inevitable."
To minimise the cost of managing separate outsourcing deals, Miller said users should nominate a prime contractor to take responsibility for delivering the service and liaise with other suppliers involved in the deal.
Read more on IT outsourcing