FTC asks to skip Rambus trial
The US Federal Trade Commission (FTC) has asked for a "default judgment" against memory chipmaker Rambus. The FTC alleged the...

Download this free guide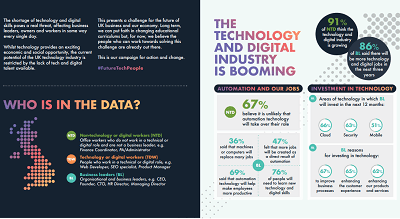 Infographic: Future-proofing UK technology
The current potential of the UK technology industry is restricted by the lack of tech and digital talent available. Read through this challenge for the future of UK business and our economy.

The US Federal Trade Commission (FTC) has asked for a "default judgment" against memory chipmaker Rambus. The FTC alleged the company destroyed documents related to their anti-competitive case.



Rambus has filed an objection to the motion for default judgment, contending that the FTC has not and cannot prove that the company acted in bad faith when it adopted its "document retention" policy in 1998. Rambus argued that its policy is no different from that of "most" public companies.

"Unless intended simply as character assassination, this motion likely reflects a growing recognition... that there are serious holes in their case," Rambus said.

The FTC filed a complaint against Rambus in June, alleging that Rambus did not tell the Joint Electron Device Engineering Council Solid State Technology Association (JEDEC) that it held patents on synchronous dynamic RAM (SDRAM) technology during standard-setting discussions for that technology.

Rambus has been involved in several private lawsuits over the past few years with DRAM suppliers, such as Infineon Technologies, Hynix Semiconductor and Micron Technology, over claims that the DRAM vendors were infringing upon Rambus' memory technology patents and not paying licensing fees for that technology.

The latest turn in the legal battle with the FTC stems from the commission's misinterpretation of Rambus' internal document policy. Like most companies, Rambus generates backup copies of its e-mail servers as a hedge against a catastrophic system breakdown. The company erases those tapes every three months under the document policy, instituted years before the FTC filed a formal complaint against the company.

The FTC accused Rambus of "willful and bad-faith destruction of evidence", according to an FTC spokeswoman.

Danforth denied the claims of document destruction. "It's a way to make the company look bad and to make executives look bad," he said.

The proceeding is scheduled for 9 April and both the FTC and Rambus have asked the judge to rule on the motion for default judgment as soon as possible.