Blade server technology aids Ester Industries' business plans
With IBM's blade server technology, Ester Industries ensures that its IT setup is future-ready, in alignment with the company's expansion plans.
This Article Covers
RELATED TOPICS
Indian markets will witness an increase in new server procurements in 2011, according to predictions by Gartner Inc., and this trend for the server market is attributable to new applications and new workloads, including blade server technology to implement concepts such as server virtualization. One organization already exemplifying this trend is Ester Industries Ltd., a leading producer of polyester films and engineering plastics in India. The company markets polyester films under the UMA-PET brand and plastics under the Estoplast brand. Ester has been envisioning expanding its operations to a global level for some time now.

Download this free guide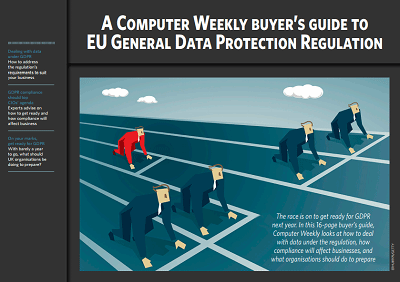 Computer Weekly's Buyer's Guide to GDPR
The race is on to get ready for GDPR next year. Computer Weekly looks at how to deal with data under the regulation, how compliance will affect businesses, and what organisations should do to prepare.
By submitting your personal information, you agree that TechTarget and its partners may contact you regarding relevant content, products and special offers.
You also agree that your personal information may be transferred and processed in the United States, and that you have read and agree to the Terms of Use and the Privacy Policy.
In connection with the organization's expansion plans, back in August 2010 the IT department commenced planning an upgrade to the existing IT setup and was considering implementing blade server technology. At that time, the organization planned to upgrade existing applications, including SAP, as well as introduce new business applications. There was no possibility of upgrading the existing Sun 280r server hardware. Production and development instances were operable on the two physical servers available for SAP, but the configuration left no scope for a quality instance.
Evaluation and implementation in stages
Ester Industries felt that the hardware requirement would increase with the increase in the number of applications to be implemented in the near future, and also for backup of desktops and workstations. On the software front, an upgrade to SAP ECC 6 from the current version of R/3 version 4 was factored in. Blade server technology with chassis that could be populated as and when required, seemed to fit the bill. One of the parameters in vendor selection was the processor roadmap being offered. According to Sunil Soni, CIO, Ester Industries, "IBM has a very clear roadmap for its power systems."
The organization finally selected the IBM BladeCenter H Chassis housing IBM BladeCenter PS701 Express and IBM BladeCenter HS22 servers running both the IBM AIX operating system and IBM PowerVM Standard Edition software. The servers are housed at the organization's data center in Gurgaon. Out of the four blade servers, two run the Windows operating system. From these latter two, one blade will be used as a file server for backup of workstations and the other for deploying the intranet. The PS701 Express will be used for the SAP application in clustering mode.
Soni explains, "Since IBM virtualization software is very effective, we are planning to use that for business applications blades, which are power systems." Thus, with two blade servers, the organization is able to maintain the requisite instances (whether quality or development). The same servers are currently being utilized to upgrade and run the production instance. Each blade has 64 GB RAM with an 8-core processor. The blade chassis can be populated with up to 14 blades, although currently only four have been installed. These blades are attached to IBM DS5000 storage. The storage capacity is about 6 TB.
The blade server technology implementation has brought in certain changes. In the earlier setup, a tape drive was used for a weekly offline backup of the database. This tape backup has been replaced with the tape library. The backup time has drastically reduced from 9-10 hours earlier, to less than an hour now. The implementation was to be completed by the end of March 2011, but has been delayed a bit due to the financial year-ending. Following blade server virtualization, the immediate plan is to upgrade the SAP version and also incorporate business intelligence (BI) tools for better management control.
Benefits going forward
Although the migration will be completed by the end of April 2011, benefits of the entire blade server technology implementation can already be foreseen. Soni pinpoints these benefits and explains, "The number of physical servers will be decreased. The configuration we have taken is consistent with the business growth for the next 4-5 years. Also, the virtualized environment will provide better manageability for overall IT." Thus, after careful planning and forward thinking, through the use of blade server technology, Ester Industries has ensured that it's IT implementation is aligned with its business roadmap.
Read more on Data centre hardware