News
Stay informed about the latest enterprise technology news and product updates.
Property developer's SAN didn't cost a virtual cent
Property developer Austcorp upgraded its storage infrastructure and enabled server virtualisation, all without spending a cent on new network equipment.
Jeff O'Connell had some familiar storage problems.
"Like many companies we needed the ability to have more manageable storage," says O'Connell, Senior Systems Administrator at property developer Austcorp.

Download this free guide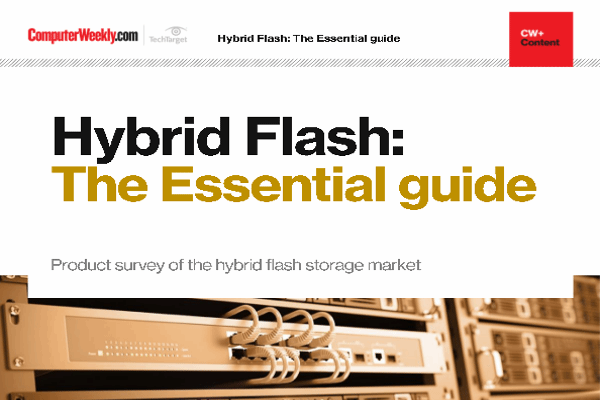 Hybrid Flash: The Essential guide
This guide offers a comprehensive survey of the hybrid flash storage market. We give the lowdown on hybrid flash products from the big six storage vendors and the startups and specialists.
By submitting your personal information, you agree that TechTarget and its partners may contact you regarding relevant content, products and special offers.
You also agree that your personal information may be transferred and processed in the United States, and that you have read and agree to the Terms of Use and the Privacy Policy.
"Direct attach storage was not a good way to allocate disk space. We had files spread out all over the place. We knew we had the disk capacity we needed but it did not quite work out: we had a haphazard approach with files stored all over the place and plenty of work moving them around," a situation that was less than optimal for the company's fleet of home-grown applications and the SQL Server database supporting them.
The obvious answer was a storage area network (SAN), which O'Connell quickly decide must use Internet Protocol connectivity.
"Fibre Channel is more expensive to get into," he says. "There is a lot more equipment to buy. So we started looking at iSCSI and saw that EqualLogic was backed by Microsoft. Then we saw a demonstration of their array and fell in love with it."
"It was not the entry-level SAN that most people would think it would be. iSCSI can do everything you imagine."
That "everything" included going into operation without the need for the company to acquire a single new piece of networking hardware.
"We are using our existing Gigabit Ethernet switches," O'Connell says. "We purchased no networking infrastructure whatsoever."
The new SAN has also made it possible for the company to adopt server virtualisation.
We had decided it would be a good time to run VMware," O'Connell says. "We wanted to be able to grow as we needed to and it is much easier to scale a virtual server than a real server."
"VMware and IPSAN went hand in hand," he adds. "We looked at the SAN and the cost of the SAN and decided that for the amount of money we were going to spend that we should maximise the overall value-add."
The result is a new configuration that sees the company's fleet of servers rely on their direct attached storage only for their operating systems. All other data, structured and unstructured, now resides on the SAN where it is managed under VMware so it can be allocated to servers and applications as and when needed.
"Utilisation of the SAN improves through virtualisation," O'Connell says. "We are using 70% the of SAN's capacity and the ROI from these two projects is initially all coming from the SAN."