What can providers do? Online storage dissected Part 5
Analyst Forrester suggests that storage service providers are on the way back. But what can they do for your business? In the last of our series exploring online storage, we explore the services to expect from your online service provider.
In its March 2006 paper 'Storage Service Providers Rise From The Ashes' (paraphrased below), Forrester's Stephanie Balaouras identifies six services to expect from an outsourced provider of online storage:

Download this free guide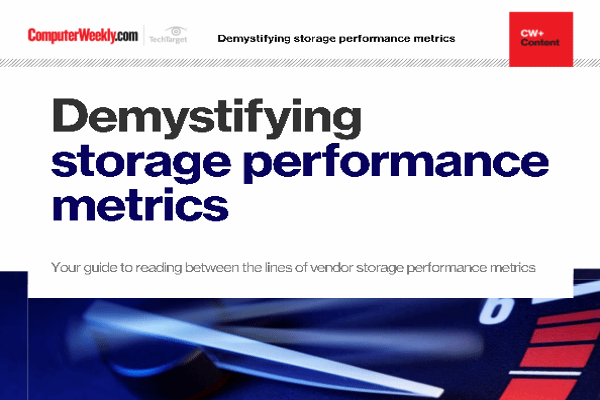 The truth behind storage metrics
Key storage metrics you need to know and how to decode IOPS, latency and read/write performance figures
By submitting your personal information, you agree that TechTarget and its partners may contact you regarding relevant content, products and special offers.
You also agree that your personal information may be transferred and processed in the United States, and that you have read and agree to the Terms of Use and the Privacy Policy.
Hosted primary storage. Some companies offer SAN, NAS and other storage services typically associated with self-hosting in the data centre, but over the WAN. These services are offered on-demand

Outsourced remote storage management. This service sees an outsourcer focus on management, rather than actually hosting storage infrastructure. The client maintains its own hardware, entrusting management of it - and operation of the required tools - to the service provider.

Managed remote backup and recovery. These services see a service provider take responsibility for backing up their clients' data, sourced from PCs and servers alike, transporting it over the WAN to their data centres and then ensuring its availability for operational, archival or recovery tasks.

Managed disaster recovery - basic. A basic outsourced disaster recovery service provides remote replication for recovery, but does not use the same hardware as the client. Data is accessible, but as the infrastructure is not replicated some lag may occur before usage

Managed disaster recovery - advanced. Advanced disaster recovery services include remote mirroring and replication and go a step further to also replicate all the infrastructure, expertise, and services. The result is the chance to failover to the service provider's "shadow systems" in the event of a disaster

Managed remote archiving. Here, the provider archives data using its own technology and on its own sites, but grooms the data for easy access when required for compliance and other tasks involving 'discovery.'