Pivot3 consolidates physical servers onto storage arrays
Pivot3's IP SAN offers Serverless Computing, which eliminates the need for application servers by running them as guests on its storage arrays.
Pivot3 Inc. today rolled out a new way to apply server virtualisation to I/O-intensive, high-capacity storage with IP SAN technology it calls Serverless Computing.

Pivot3's Serverless Computing eliminates physical application servers by moving them onto its x86-based storage nodes running an open-source Xen hypervisour. The new systems combine server virtualisation with Pivot3's original RAIGE platform launched last year for the video surveillance market.

Download this free guide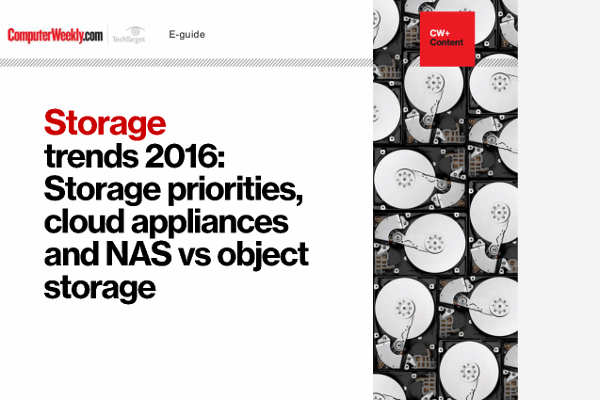 Storage trends 2016: Storage priorities, cloud appliances and NAS vs object storage
Our guide to the latest shifts in the Storage to-do list for IT departments, cloud appliance providers, and what to do with large volumes of unstructured data
By submitting your email address, you agree to receive emails regarding relevant topic offers from TechTarget and its partners. You can withdraw your consent at any time. Contact TechTarget at 275 Grove Street, Newton, MA.
You also agree that your personal information may be transferred and processed in the United States, and that you have read and agree to the Terms of Use and the Privacy Policy.

RAIGE uses nodes called Databank with SATA drives connected to application servers with Ethernet switches. The new serverless computing system replaces the databank with a cloudbank, including a second CPU with RAM and Ethernet ports, and Xen hypervisour. Customers run applications in virtual machine images inside the cloudbank node. Lee Caswell, Pivot3's chief marketing officer, said the consolidation reduces power, cooling and rack space, and the cost of standalone application servers.

"The servers haven't really gone away, we're repackaging them" Caswell said. "But to customers, they're serverless because you don't have to buy the servers you would normally have to buy."

By using Xen to bring the server applications onto the storage hardware as guests, Pivot3 takes the opposite approach as software products, such as LeftHand Networks' Virtual SAN Appliance and Seanodes' Exanodes, that run as guests on hypervisours to create server-based IP SANs. While LeftHand and Seanodes eliminate external physical storage, Pivot3 eliminates the servers. The LeftHand and Seanodes approach gives server administrators more flexibility over the hardware they use, while Pivot3 is primarily a way to cut costs by eliminating the need for application servers.

Cisco takes a similar approach to Pivot3's with its WAAS product for remote offices, said analyst Jeff Boles of the Taneja Group.

"The possibility of running virtual servers on top of x86s so the hardware's not fully tasked with running the storage is what makes this interesting," Boles said. "It's similar to Cisco allowing virtual server instances to run on top of its WAAS appliance to reduce hardware requirements."

The architecture also provides disaster recovery because "you can lose your entire data bank and failover a virtual server to another data bank with less hardware overhead," Boles said.

Pivot3 has around 60 customers with a total of 10 PB of capacity, all using the product to store video surveillance images, Caswell said. The first serverless products will also be used for video surveillance, but he expects to expand the customer base to rich media and online archiving companies requiring high capacity and low-cost storage.

"If you're not looking for high capacity, Pivot3 isn't all that exciting for you," Caswell said.

The serverless systems are priced the same as RAIGE systems -- $1,500 per terabyte.